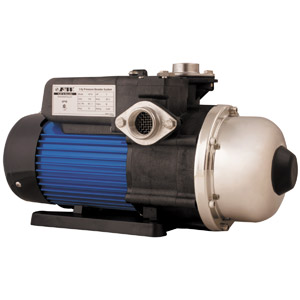 The VP10 City Pressure Booster System works in a variety of home and business applications. Source: Flint & Walling
Flint & Walling has unveiled a new line of City Pressure Booster Systems.
The company says the all-in-one designs of the VP05 and VP10 feature a motor, pressure tank and electronic controller. Flint & Walling designed these two compact models for low-noise operation in a variety of applications.
VP10s boost water pressure for home and business applications, while VP05s cater to household lawn sprinkler and irrigation work. Both pumps have dry-run shutoff, automatic reset and thermal pump sensor to protect against run dry, dead head and rapid cycling. Both models feature 1-inch suction and discharge.
 Flint & Walling, established in 1866, builds a variety of pumps and pump products at the company's facility in Kandallville, Ind. For more information, call 800-345-9422, visit www.flintandwalling.com or email tech@flintandwalling.com.