Flint & Walling has introduced a new 4-inch submersible motor line for the water well industry.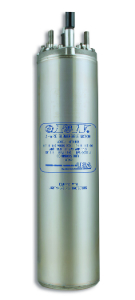 The new 4-inch motor is designed and manufactured in Kendallville, Ind. Source: Flint & Walling
"Planning and development began with the initial design in 2005, after fundamental 'industry changing' announcements drove us to consider our motor and control options," said President Scott M. Lechner. "In 2007, we expanded our Kendallville manufacturing facilities to support future submersible motor manufacturing efforts. With comprehensive and highly successful field testing throughout North America over the past eight years, we are confident F&W will add value to the industry through our quality control processes."
The new motors were designed, machined and put together at the company's Kendallville, Ind., facility.
"Manufacturing motors was nothing new for the F&W Kendallville facilities, as we have been producing our own centrifugal motors since the early 1950s," said Eric Rimmel, who oversees production and engineering. "In fact, we are the only pump company in North America that actually winds and makes our own jet and centrifugal pump motors. Four-inch motors and controllers were a logical expansion for F&W to take."
Flint & Walling, a subsidiary of Zoeller Co., was established in 1866 and is Kendallville's oldest manufacturer. Zoeller manufactures and sells water pumps and electrical controls under the brand names Flint & Walling, Wolf Pump, Zoeller Pump, Zoeller Engineered Products, Clarus and Tulsar.
For more details about the new 4-inch motor line, call 800-345-9422, visit www.flintandwalling.com or send a message to tech@flintandwalling.com.