Newpark Drilling Fluids has christened a new facility in Katy, Texas.
President Bruce Smith called the Newpark Technology Center "a landmark in the history of our company."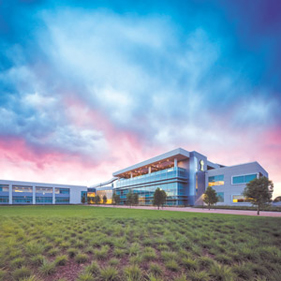 Newpark Drilling Fluids' new facility in Katy, Texas, brings the company's technical and administrative personnel under one roof. Source: Newpark Drilling Fluids
The new facility sits on 11 acres near Interstate 10. The 102,000-square-foot complex features a training laboratory, as well as testing and service areas—in total 37,000 square feet of research and development space. The lab includes a drilling simulator and training auditorium.
"This facility unites our technical staff and administrative staff under one roof and enables us to continue making technological breakthroughs with global effects," Smith said. "We are very excited to share it with our customers and business associates."
The company is showcasing its commitment to the environment at Newpark Technology Center with a two-story living water wall in the lobby. The wall—the fourth largest of its kind in the United States, Newpark says—features nearly 700 plants irrigated with recycled water and producing clean air for the facility.
 Newpark Drilling Fluids offers custom drilling fluids solutions to customers in oil and gas exploration and production. For more information, visit www.newpark.com.