Water, the cliché says, is life. I think it's clear from this month's story (page 10) out of Baton Rouge, La., where drillers took a clever tactic to protect that city's freshwater supply. We need freshwater for everything from irrigation to showers, and in some areas, we need creative problem solving to get it.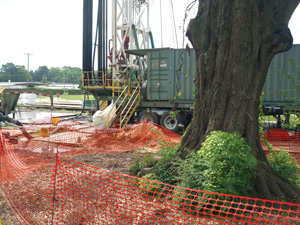 Layne Hydro drillers executed the plan to install a "scavenger" well to protect freshwater production at Lula Station, just north of this site. Source: Dennis McGehee / Baton Rouge Water Company
East Baton Rouge didn't have a problem getting water. But, it only takes a quick glance at a map to guess that, while there's likely freshwater drillers can get to, saltwater isn't far behind. That was the problem. Saltwater had crept toward a main production well sunk into the Southern Hills Aquifer over decades. The issue, first identified as a problem in the 1960s, had started to affect the area's drinking water.
A production well near the city's Lula Avenue was, of course, sunk by drillers decades ago. The city called on drillers once again to protect it.
"Currently, the saltwater wedge extends all the way to the Lula Station," said Rhett Moore, a senior hydrologist with Layne Hydro, which worked on the project. "The lower well will capture saltwater on its way north toward the Lula Station."
The freshwater well was contaminating itself. Pumping there changed the pressure between two parts of the aquifer and pulled the saltwater north across a natural fault line. Layne Hydro drillers put the "scavenger" well just south, and it will run in tandem with the one at Lula Station.
It's a smart solution to a difficult problem. Every day, I see stories about drillers solving problems—problems that, if not solved, would have a huge impact on the public. I wrote recently on my blog about Magdalena, N.M. The city recently hit a water crisis after its only working well failed in the face of persistent drought. It's still working on a fix that will save the tiny town, but it's a drilling problem looking for a drilling solution.
I recently read about Palestinians in the West Bank defying Israeli authorities to drill water wells without permits. Set aside the politics for a minute, and you see that these drillers are solving a problem (as they see it): water access. Again, drillers finding solutions.
Lastly, I heard a radio report this week about radioactive water pouring from Japan's Fukushima plant into the ocean, 75,000 gallons per day. Other solutions have been tried and failed. The next idea: Sink pipes into the earth surrounding the plant, fill them with coolant and create a giant, frozen underground wall to contain the contaminants.
Drillers Solving Problems      
It's a recurrent theme. I write about it here, my columnists and freelancers cover it, and contributor Matthew Winfield talks about it in his open letter to the president (page 26).  I see more stories on the Web than I can possibly mention in one, 600-word column. It's not easy work (not that I've done it), but it's work that should earn drillers a place of respect. You keep the rest of us drinking freshwater, you install our utilities without tearing up our roads, you make sure our buildings, tunnels and highways are safe, you get oil for our machines and gas to heat our homes.
The public may not always appreciate drilling contractors, but they should. Baton Rouge residents may not have even realized what the machine was doing on that plot of land between 31st and 32nd streets. But, if drillers didn't solve that problem, you can bet those residents would notice.
 Stay safe out there, drillers.