Drilling today is a high-tech business as a declining number of contractors use mechanical drills on jobsites. With that in mind, National Driller reached out to Zachary Strauss, aftermarket product manager at Boart Longyear, for tips on rig maintenance. Strauss and his team handle spare parts, preventative maintenance and other services that help keep rigs on the job, and he was kind enough to answer our questions.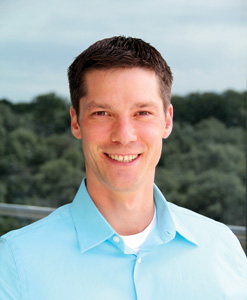 Zachary Strauss
Q. Can you describe your background? How long have you been with Boart Longyear? How long in maintenance? What's your education? Any other important professional details?
A. I have a bachelor's in materials science and engineering from Michigan Technological University and a master's in business administration from the University of Utah. I have been with Boart Longyear since late 2006. I started in the mining industry at Boart Longyear as an engineer developing new technology in diamond drill bit products in an engineering capacity. I have been the product manager for the rig spare parts since Dec. 2009.
Q. Can you talk a little bit about what markets Boart Longyear services and what services, beyond equipment sales, the company supplies?
A. We service primarily the mineral exploration drilling market but, also service our equipment operating in several other market segments such as underground narrow stope production (percussive), environmental and infrastructure markets, and oil and gas.
We provide technical sales and service to support the aftermarket need of our customers that own Boart Longyear rigs, as well as support the maintenance needs of our own drill rig fleet. On the service side, we offer basic machine repair and troubleshooting at client sites. We have several workshops globally that have the capability of doing small repairs all the way through complete machine restoration.
We offer:
• Maintenance contracts with the option for dedicated on-site technicians.
• Training for mechanics on the proper maintenance of the machines.
• Rig commissioning for new equipment sales support.
• Customizations and upgrades to machines.
• Service exchange component service, where you can buy a remanufactured assembly at a discounted price from new and additional credit for the return of a core.
Q. There are, of course, many types of drilling rigs. Can you talk about the challenges, from a maintenance standpoint, of some of the types you service (as compared to one another)? For example, do underground coring rigs have special maintenance challenges? Does it take more than basic mechanical know-how to service sonic rigs? Give examples.
A. One of the big challenges I see in terms of maintenance on a fleet of drill rigs is the locations in which they operate. You can imagine a significant difference between a machine operating at a developed mine site as compared to a geographically remote green field exploration rig. The access to parts, services and equipment are vastly different in these two scenarios, which makes planning for maintenance much more critical and difficult.
Independent of drill type, advancements in technology used on the more modern drilling machines also require advancement in maintenance personnel skills and talent. The use of mechanical drills is declining rapidly. These drills could be repaired by a mechanic with basic mechanical know-how. The fully hydraulic drills require special instrumentation and advanced hydraulics knowledge to properly service. These drills are very reliable and still widely used across all rig types.
Driven by the need for safety, automated functions and other desired complex features, many of the newer drills are now designed with electric-over-hydraulic control systems. While the benefits are great in terms of drill operations, the newer control system is a maintenance challenge. The environment in which these machines operate will put the reliability of a more complex electronic system to the test. In addition to this, the maintenance employees not only need to be experts in hydraulic circuits and devices, they are also now required to understand the electrical systems installed on these newer machines.
Tying advancement in technology back to my earlier point about location—the drill rigs with more integrated technology are typically better suited for locations with easier access to services. It may take too long to dispatch a mechanic, with the appropriate skill set, to a remote drill site operating one or two drills experiencing electrical problems. The focus needs to be on machine up-time and balancing your ability to adequately service the machines. The factors are costs, skill sets, access to parts and services, machine technology, tolerance for down-time and planning.
Special expertise is required in areas of maintenance such as: compressors on reverse circulation rigs, and PLC controls in various rigs.
Q. It may vary by rig type, but what are a couple big preventative maintenance items you wish drillers would make a higher priority?
A. Drillers do a pretty good job of this already, but it is worth mentioning. One of the most expensive repairs on a drill rig is the rotation module. Taking one of these units out of service at the early signs of failure can prevent serious damage and make repair costs lower. Monitoring lubrication pressures or flow to the rotation module is another easy way to prevent premature failure of the expensive assembly.
Other tips:
• Keep the machine clean.
• Avoid getting rods stuck in the hole. The abuse a machine endures when trying to free up stuck rods causes excessive wear on major components, especially feed cylinders.
• Monitor and avoid overheating the hydraulic oil. Hot oil is usually linked with stuck rods and cylinder failure, but not the only cause of overheating the hydraulics. This issue is more common on the larger surface rigs.
• Report faults or issues that need to be addressed when they are noticed.
• Avoid hydraulic contamination by plugging hoses and fittings when disconnecting any components.
Q. Can you talk about average useful lives of rigs? Again, I imagine it varies by type.
A. This does vary by rig type. The useful lives of machines, of course, will vary with the following factors: operating environment (blowing sand, arctic, salt, rains, etc.), preventive maintenance history, interest in overhaul vs. replacement, initial machine quality, machine utilization.
A typical surface coring rig is ready for a major overhaul in about seven years, extending the useful live to 14 years.
A typical underground coring rig is ready for an overhaul in about three years, and is good for two overhauls, extending the useful live to about nine years. When compared to the surface coring drills, the underground rig overhaul costs are usually less costly.
The larger drills, such as rotary or reverse circulation, can have even longer useful lives as maintaining the primary systems is more cost effective than total replacement. Typical life of a large RC or coring rig is 20 years, with a major overhaul at the 10-year mark.
Q. Can you talk about the growth of maintenance as a business aspect of Boart Longyear? That is, what's the growth in maintenance as a portion of the company's bottom line over last year? Five years? Ten?
A. Boart Longyear has always sold spare parts for our machines, but growth in the parts business as well as our service offering has been a bigger focus in the last five years.
Q. Are rig owners, in your experience, spending more money and time on maintenance today versus, say, 10 years ago? Twenty years? If so, why do you think that is?
A. Yes, over the last 10 years, maintenance is critical in the evolving safety culture in our industry and that of the major mining companies. There is more emphasis on preventative maintenance and compliance with regulations requiring documentation and proof of machine operating condition. Clients are requiring nondestructive testing (NDT) on a regular basis to certify any load-bearing structure or loading points. This is especially the case in the coal markets we serve. Masts, pins, sheaves, pressure vessels, pivot points or any other points of loading are subject to NDT testing regulations. This all drives up spending on maintenance of the machines.
Over the last 10 years, but especially in the 20-year timeframe, the complexity of machines has also driven up the spending on maintenance. Simple and relatively inexpensive mechanical machines were also inexpensive to maintain. These mechanical rigs were widespread 20 years ago, but are only operated in a few regions and are a small percentage of total maintenance spending today.
Q. How do you see rig maintenance changing in the next 10 years?
 A. The next 10 years of maintenance will focus more on planned maintenance rather than reacting to breakdowns. If you were to compare exploration rig maintenance (the run-to-failure mentality) to other mining equipment like top hammers, haul trucks, stationary equipment, etc., you would see a very different philosophy on maintenance in regards to preventive maintenance planning. In an effort to reduce the total cost of maintenance (due to rising costs of maintenance per the last question), planned preventive maintenance will become part of the daily routine.