The basics of drilling, like the basics of writing, don't change much. Drillers poke a hole in the ground, and useful things come out—water, energy or minerals. Likewise, writers put fingers to keyboard (or pen to paper) and, hopefully, useful things come out. Those basic mechanics remain relatively constant, and have since people have sunk wells in the ground or attempted to write the next great novel.
What does change is what goes on around what we do as we go to work at our respective crafts. Advances in drilling technology help us reach water in basalt that hasn't seen daylight since mastodons stomped around North America. We've perfected hydraulic fracturing to the point where vast swaths of the Three Forks and Bakken formations now make the U.S. a player in energy markets. Engineers can drill oil wells on the sea floor, and tunnels under it. Drilling has improved a great deal, even as the basics stay pretty constant.
In writing, we've gone from cave scrawling to papyrus to the Bible to the printing press to the Internet. It's scary how much the delivery of words has changed in just my lifetime (and I'll be 40 this month). In middle school, I learned to type on a typewriter. Remember those? Clank, clank, clank, ch-chunk, and the carriage returns. Now, it's just the soft tap, tap, tap of keys, and words appear magically on screen.
The expectations of people who like to read words have also changed. People still enjoy reading print. But a lot of people prefer reading online, on their mobile phone or even on those silly screens at the gas pump. Readers want you to be where they are, even if it's in the supermarket checkout line or—gulp—in the jobsite portajohn. At the same time, they want you to have all the cool Internet whistles and bells. People in publishing have to stay ahead, and it isn't easy.
We recently relaunched www.thedriller.com to up our game, so to speak, in Web publishing. I know I'm going to like it. I'd liken the change behind the scenes to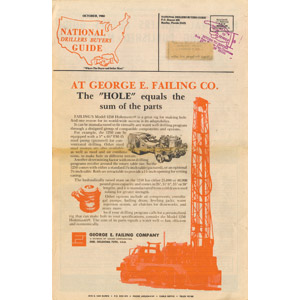 We've rolled out a new website, but some of you older drillers may remember simpler days. This is a National Driller cover from October 1980. Source: National Driller archives
going from a typewriter to a laptop. Big change, and it's going to make my job of delivering news, product details and features to readers easier. But my opinion matters about as much as a mastodon dropping to you, I'm sure. You're the one who matters.
Take a moment, if you haven't already, to visit the new online home to National Driller. Poke around and kick the tires like you would a new rig. It's the same old National Driller, with the product information and columnists you rely on us for. But I think you'll find it better organized and just plain nicer to look at. Plus, we've thrown in some of those bells and whistles, like photo galleries, to keep you clicking.
Revolutionary? No. That would mean beaming Wayne Nash and Porky stories directly into your brain. And, really, who wants that? But the site has evolved, and I hope you like the direction we've taken. Check it out, and then send your thoughts—love letters or hate mail, but preferably the former—to verduscoj@bnpmedia.com.
Classic Rig Gallery
A few months back in this column I put out a call for pictures of rigs from yesteryear. I put the responses together in a photo gallery on the new site. Have a look in our photo galleries. There you'll find the Classic Rigs gallery, a gallery of our Parting Shots from the last year or so, and more as we add them. If you have pictures of old rigs, or just plain pictures of drilling from the old days, let me know and I'll add them to the gallery so other readers can enjoy.
Stay safe out there, drillers.