I'm betting a lot of National Driller readers haven't installed a hand pump for a well in a dog's age. Even the most rural well users want a gadget that doesn't require the user to throw his back out, just to pull up a few gallons of water.
But, in the U.S., there's a small current of people who do whatever they can to reduce their footprint on nature—to live off the grid, so to speak. The WaterBuck Pump is made for them. They have a contest going. More on that in a second. First, I want to discuss the product, which is made for back-to-nature types but I imagine has all sorts of applications for remote areas where running electricity may not prove practical.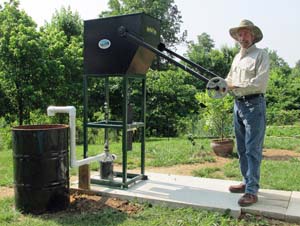 Darren Holliday fills a 55-gallon drum with the WaterBuck device he developed. Source: Darren Holliday
The website describes it this way:
"No wind power, electricity, solar or other micro-grid technology is needed. Using a simple combination of human shape, motion, weight and strength, volumes of water can be pumped from deep water wells. Depths far beyond what could even be considered are now possible with the WaterBuck Pump."
They make big claims. The makers say the prototype allowed a 60-something grandmother to pump 5 gpm from 80 feet. They say two fit men can get 27 gpm from the right well.
I can almost see National Driller readers shaking their heads. Why would you do that, when you can throw a electric pump in there and save yourself some grief. I'm sure WaterBuck Pump users would laugh and say, "Well, at least I can wash my clothes and brush my teeth after civilization breaks down and your fancy electrical grid fails." Or something like that.
So, on to the contest. The company that makes the WaterBuck is asking people to submit video of the best they can do with a hand pump. Contestants are competing against the grandmother I mentioned earlier, using the WaterBuck.
Videos should be unedited, one person, pumping from a drilled well 45 feet or deeper. Click through for full contest details. The pump can be homemade or manufactured, but cannot use electric motors, wind power or hydraulics. A list of "survival-related prizes" will be divvied up among the contestants who pump the most.
 Do you think you can beat grandma? Why don't you give it a try?