This week opens with good news on the groundwater and property rights front. Anchor Brock Yordy talks to Tucker Green, executive director of the Georgia Association of Groundwater Professionals. Green talks about a new law — spearheaded by their group and drillers like you — that specifically legalizes groundwater wells in areas that could otherwise connect to municipal water. How can you help educate legislators about issues like this in your state? Listen to find out. 
"What was interesting is that we found most of them were surprised," Green says of lawmakers the group spoke with. "They had no idea this was going on. Most of them thought it was common sense private property rights. They were on board with what we were trying to accomplish." 
This episode also features interviews with Nick Matthews of Xylem and Chris Adkison of DJ Pump Service. Be sure to stick around for the chaser: an interview with Aaron Maurer, P.E., of Matrix Drills, about finding balance, even in jobs that demand a lot of travel. 
This episode covers: 
The 2023 South Atlantic Jubilee 
Private property rights win for water wells in Georgia 
The importance of calling your legislators on groundwater issues 
Donating to your local community, even at trade shows 
Social responsibility for water access and sanitation 
Recruiting the next generation of drilling, construction operators 
Taking time to see the places you travel to for work 
Work/life balance for professionals who frequently travel
Thanks for joining us. Whether you're at your desk or on the way to the jobsite listening in the truck, start your week with us.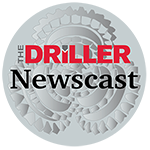 Click the right-hand menu for download options
Thanks for joining us. Tune in each Monday morning for the latest video or podcast. Whether you're at your desk or on the way to the jobsite listening in the truck, start your week with us. You can also find our show on Apple Podcasts and Spotify.
Drilling expert Brock Yordy is a regular The Driller contributing writer. Send news tips and interview suggestions to questions@askbrock.com.