Did you miss us? It sure felt good to have a break, but we're back with our weekly The Driller Newscast — and just in time. This week, we give folks a preview of the 2023 South Atlantic Jubilee, coming up July 29-31, in Myrtle Beach, South Carolina. This year's show, for the first time, features a hands-on emergency response course called "Stop the Bleed," complete with life-like dummies and scenarios.
"You're going to be doing tourniquets and stopping bleeding — as the course suggests, and all the emergency response things that you could possibly have to endure in the field," Barclay says. "This is more important than just CE credits. This could save someone's life."
Of course, that's in addition to three tracks of other CE courses and the family-friendly trade show folks in the industry build their vacations around.
We also get into the recent ruling at the Supreme Court on Navajo Nation water rights, as well as hydration safety for those hot, summer days.
Plus, we get a special appearance from The Driller editor Jeremy Verdusco.
This episode covers:
Jobsite safety amid record heat in parts of the U.S.
The importance of hydration on hot days
Hydrating with water versus other drinks
The recent Supreme Court ruling in Arizona v. Navajo Nation
Historic drought in the Western U.S.
The upcoming 2023 South Atlantic Jubilee
The importance of advanced CPR and emergency response for construction workers
Continuing education for drilling professionals
Jubilee's "family trade show" heritage
Thanks for joining us. Whether you're at your desk or on the way to the jobsite listening in the truck, start your week with us.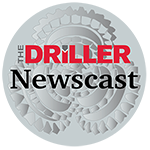 Click the right-hand menu for download options
Thanks for joining us. Tune in each Monday morning for the latest video or podcast. Whether you're at your desk or on the way to the jobsite listening in the truck, start your week with us. You can also find our show on Apple Podcasts and Spotify.
Drilling expert Brock Yordy is a regular The Driller contributing writer. Send news tips and interview suggestions to questions@askbrock.com.