This episode focuses on developing the future workforce in drilling, groundwater and other trades. First, host Brock Yordy talks to Ben Frech and Dave Schulenberg of the National Ground Water Association about the group's workforce efforts. Then, we talk to Kevin Mossman Sr., president of Mossman Enterprises, and his son, Kevin Mossman Jr., who is still in sixth-grade but passionate about going into the groundwater industry. 
Virtual learning during the Covid-19 pandemic put the younger Mossman in the same room as his dad, whose business does well and pump installation. Over time, Kevin Jr. has taken an active role in the company, going out on-site and seeing drilling and sampling first-hand. 
"Every chance that I get to go out with my dad, I take it," Kevin Jr. says. 
He plans to become a groundwater engineer. 
This episode covers: 
Competition for workers across drilling, groundwater, other trades 
Recruiting for trades in middle and high schools 
Workforce development for drilling, groundwater 
Capitalizing on renewed interest in non-college fields 
Training the next generation in drilling, groundwater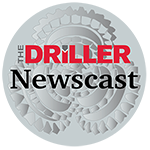 Click the right-hand menu for download options
Thanks for joining us. Tune in each Monday morning for the latest video or podcast. Whether you're at your desk or on the way to the jobsite listening in the truck, start your week with us. You can also find our show on Apple Podcasts and Spotify.
Drilling expert Brock Yordy is a regular The Driller contributing writer. Send news tips and interview suggestions to questions@askbrock.com.