On this week's episode, anchor Brock Yordy talks about building the 21st-century workforce needed to meet demand in geothermal and other types of drilling. We, of course want to have conversations about safety, equipment and compensation. But Yordy says we also want to offer a clear career path and an even clearer, aspirational goal: They get to help contribute solutions to energy and resource scarcity.
"You want to know why gen Z isn't getting muddy on groundwater wells and geothermal loop fields?" Yordy asks. "We haven't shown them the value or the milestones, and how rewarding this industry can be. … These are all things we're going to have to think about if we want to be able to get these individuals muddy, get them in the field, get them excited."
This episode covers:
Preventing heat stress and other heat-related health conditions
Tips for minimizing the risks of summer heat for drilling, construction work
Recruiting people to work in drilling and construction
Growth prospects for geothermal and ground-source heat pumps
The need for more drillers in geothermal
How "dirty" jobs like drilling can appeal to millennials and younger people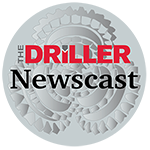 Click the right-hand menu for download options
Thanks for joining us. Tune in each Monday morning for the latest video or podcast. Whether you're at your desk or on the way to the jobsite listening in the truck, start your week with us. You can also find our show on Apple Podcasts and Spotify.
Drilling expert Brock Yordy is a regular The Driller contributing writer. Send news tips and interview suggestions to questions@askbrock.com.