This special 50th episode features a wide-ranging discussion from a range of industry veterans and fresh perspectives. Our lineup today features everyone from former National Ground Water Association President Jeff Williams to Garen Ewbank of Ewbank & Associates LLC. Stick around for The Driller columnists Jake Fletcher and Dave Bowers.
"We have to start believing that we are as important as every other one of these skilled trades," Safety 365 columnist Dave Bowers says in this episode. He makes the case that drilling — for water, to make structures safe — arguably has a higher importance than many other trades.
This episode covers:
Getting into the field of drilling
Advice for people new to the drilling industry
Finding and learning from drilling industry mentors
Drilling bits
Professional integrity
Overcoming equipment challenges
Gen Z, drilling and construction trades
Valuing drilling, construction employees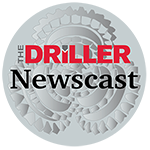 Click the right-hand menu for download options
Thanks for joining us. Tune in each Monday morning for the latest video or podcast. Whether you're at your desk or on the way to the jobsite listening in the truck, start your week with us. You can also find our show on Apple Podcasts and Spotify.
Drilling expert Brock Yordy is a regular The Driller contributing writer. Send news tips and interview suggestions to questions@askbrock.com.