By some estimates, California over about three weeks recently got about 98 million acre-feet of rain. So, why hasn't that solved the Western drought? Anchor Brock Yordy walks us through the logistics of massive-scale water capture. Then, in this week's safety segment, we talk about willful misconduct.
This episode covers:
Trenching safety
Willful safety violations and liability
Infrastructure Investment and Jobs Act and Inflation Reduction Act funds for drilling infrastructure
Waters of the U.S. (WOTUS)
Droughts in the Western U.S.
California's "atmospheric river"
Rain capture's impact on Western U.S. droughts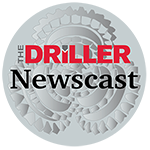 Click the right-hand menu for download options
Thanks for joining us. Tune in each Monday morning for the latest video or podcast. Whether you're at your desk or on the way to the jobsite listening in the truck, start your week with us. You can also find our show on Apple Podcasts and Spotify.
Drilling expert Brock Yordy is a regular The Driller contributing writer. Send news tips and interview suggestions to questions@askbrock.com.