Ever wonder what it takes to grow a drilling company? This week, host Brock Yordy sits down Matthew McAnally, owner and president of Texas-based Innov8 Drilling Services. They talk about the hustle it takes to build a contracting company, as well as the challenges and opportunities posed by younger workers.
"The biggest thing was the work flow," McAnally says. "You got to have work to run these rigs, because these rigs are very expensive to just sit around, and you got to have personnel to run them."
Many folks might look for industry veterans to run their equipment and fill those personnel seats, but McAnally went in a different direction and has had great results.
"I hired a bunch of young guys. All my staff is probably under the age of 28 years old, and three of my drillers are 22 years old."
This episode covers:
Refocusing on jobsite safety after a holiday weekend
The Colorado River Compact and western droughts
The historic agreement between Colorado River Compact states
Cathodic drilling
Hiring and training young people for drilling and construction
Layout tips for drilling jobsites
Scaling a drilling or construction business
▶ Listen now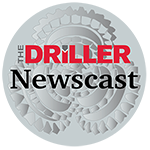 Click the right-hand menu for download options
Thanks for joining us. Tune in each Monday morning for the latest video or podcast. Whether you're at your desk or on the way to the jobsite listening in the truck, start your week with us. You can also find our show on Apple Podcasts and Spotify.
Drilling expert Brock Yordy is a regular The Driller contributing writer. Send news tips and interview suggestions to questions@askbrock.com.