In this episode recorded live at Groundwater Week 2022, anchor Brock Yordy talks to both the outgoing and incoming presidents of the National Ground Water Association. President Brian Snelton is preparing to hand the reins to president-elect Jason House, a hydrogeologist — only the second time a scientist has led the group. It's episode 41.
"I think it's critical for geologists, scientists and engineers to understand what the drilling industry has learned over the years and what they have to offer to us," House says.
This episode covers:
Groundwater Week 2022
Influencing groundwater policy
Hiring and staffing issues for trades
Collaboration between drillers and geologists
NGWA's Legislative Fly-in
Talking to young people about drilling and groundwater work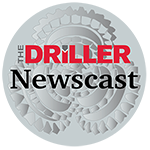 Click the right-hand menu for download options
Thanks for joining us. Tune in each Monday morning for the latest video or podcast. Whether you're at your desk or on the way to the jobsite listening in the truck, start your week with us. You can also find our show on Apple Podcasts and Spotify.
Drilling expert Brock Yordy is a regular The Driller contributing writer. Send news tips and interview suggestions to questions@askbrock.com.