In this episode, anchor Brock Yordy talks to Donovan Gordon, director of clean heating and cooling for the New York State Energy Research and Development Authority (NYSERDA). Gordon makes a compelling case for more geothermal drillers — fast. The state has ambitious plans to install a million heat pumps by 2030. It's Driller Newscast episode 29.
 "Drilling industry, what can we do to attract you?" Gordon asks. "What would make you come to New York because we want you here, we need you here and we see this as a great opportunity for you to make money."
This episode covers:
How climate change affects drilling and the drilling industry
WOTUS, drought and other issues affecting the water industry
Demand for geothermal drillers and rigs
How the Inflation Reduction Act would affect the drilling industry
How "net zero" electrification efforts can benefit the drilling industry
New York's Utility Thermal Energy Network and Jobs Act
Federal and state funding for heat pumps, geothermal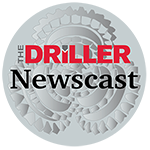 Click the right-hand menu for download options
Thanks for joining us. Tune in each Monday morning for the latest video or podcast. Whether you're at your desk or on the way to the jobsite listening in the truck, start your week with us. You can also find our show on Apple Podcasts and Spotify.
Drilling expert Brock Yordy is a regular The Driller contributing writer. Send news tips and interview suggestions to questions@askbrock.com.
This episode of The Driller Newscast is brought to you by Wyo-Ben, Inc.