Historic droughts have had a wide-ranging effect on the U.S. West. But, as droughts persist, policy choices and harder – as do temptations to bend or avoid the rules. Anchor Brock Yordy rounds up some of these issues this week. It's Driller Newscast episode 27.
"We need to be on top of these things from our state level and our National Ground Water Association level," Yordy says, "and understand how we can be a positive impact."
This episode covers:
Refocusing on jobsite safety after a holiday weekend
Federal Infrastructure Law funds for plugging orphan oil & gas wells
Federal Infrastructure Law funds for water re-use projects
ASR wells and other opportunities for drillers
Oregon's Klamath Irrigation District dispute with federal water authorities
Mysterious Cambridge Canal release in Nebraska
Fraud and market manipulation in water access
The importance of reliable, accurate data in building water use policy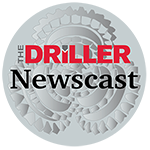 Click the right-hand menu for download options
Thanks for joining us. Tune in each Monday morning for the latest video or podcast. Whether you're at your desk or on the way to the jobsite listening in the truck, start your week with us. You can also find our show on Apple Podcasts and Spotify.
Drilling expert Brock Yordy is a regular The Driller contributing writer. Send news tips and interview suggestions to questions@askbrock.com.
This episode of The Driller Newscast is brought to you by Wyo-Ben, Inc.