In episode 10, anchor Brock Yordy wraps up his three-part series on bringing younger generations into drilling and construction, then interviews professor Jim Smith of Ontario's Fleming College.
"We just need the younger generation to say, 'I could be doing this.' We need to make the industry something that people seek after, fight to get involved in." Smith says. Smith's school produces dozens of trained drillers each year.
This episode covers:
Analyzing a workplace and jobsite for safety issues
The importance of recording near misses
Training new drillers
Hard skills vs. soft skills for drilling, construction professionals
The latest on Lake Mead and the western drought
An emergency drought declaration in Idaho
New York State's renewable energy efforts
Opportunities for geothermal drillers in New York and elsewhere
High demand for drilling talent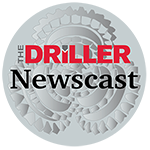 Thanks for joining us. Tune in each Monday morning for the latest video or podcast. Whether you're at your desk or on the way to the jobsite listening in the truck, start your week with us. You can also find our show on Apple Podcasts and Spotify.
Drilling expert Brock Yordy is a regular The Driller contributing writer. Send news tips and interview suggestions to questions@askbrock.com.