In this episode, anchor Brock Yordy talks about lightning safety policies, has (non-PFAS) updates on the EPA and interviews geologist Nancy Pasillas of Talon/LPE.
"I know that drilling has a reputation of being a trial-by-fire type of mentality, but at the end of the day we want to you succeed and we want you to be safe," Pasillas says. "No one wants to be hiring a new drilling technician every two to three months."
This episode covers:
Lightning safety policies for drilling jobs.
How geologists and drillers can better work together.
How EPA policies affect the drilling industry.
Funds for drilling in the 2021 infrastructure bill.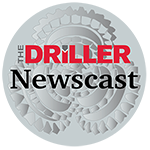 Thanks for joining us. Tune in each Monday morning for the latest video or podcast. Whether you're at your desk or on the way to the jobsite listening in the truck, start your week with us.
Drilling expert Brock Yordy is a regular The Driller contributing writer. Send news tips and interview suggestions to questions@askbrock.com.