In episode 2 of our new weekly news program, anchor and drilling expert Brock Yordy has tips for hard hat safety, updates on western U.S. water rights fights, and an interview with driller, safety trainer and The Driller columnist Dave Bowers.
This episode covers:
Hard hat safety tips
The lifecycle of a hard hat
An update on the Mariner One Pipeline
Drilling fluids disposal plans
Droughts in the western United States
Senior water rights holders in California
State water rights fights
Water conservation efforts in Kansas
Oversight of the Ogallala Aquifer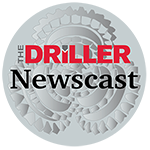 Thanks for joining us. Tune in each Monday morning for the latest video or podcast. Whether you're at your desk or on the way to the jobsite listening in the truck, start your week with us.
Drilling expert Brock Yordy is a regular The Driller contributing writer. Send news tips and interview suggestions to questions@askbrock.com.