Change has marked the beginning, middle and end of this year.
We chalk many changes to the minus side of the ledger. This pandemic sends a big percentage of us home. The economy rollercoasters down and up and down again. We wrap up the year weighing whether to risk celebrating holidays with family beyond your own "germ bubble."
Some changes pop up on the plus side of the ledger: I work from home, spending more time with my family. As a magazine, we went all-digital. We launched a podcast and video series. However, we've held off one major change until now.
You probably noticed on your way in, but now you can just call us "National Driller." Let me give you the back story.

A Look Back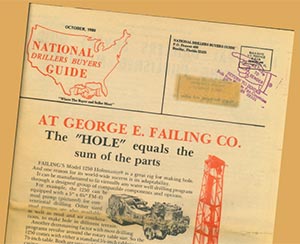 The "The National Drillers Buyers Guide" debuted in October 1980. That month, Walton Carter "Doc" Faison carried stacks of the 16-page first issue into what was then the National Water Well Show in Las Vegas.
Faison turned a hobby for photography into a go-to magazine for the drilling and water supply industry. He earned respect from buyers, suppliers and manufacturers alike, even receiving the National Ground Water Association's prestigious Life Member Award in 1989. He eventually sold the magazine to BNP Media in 1999, which shortened the name to "National Driller."
That name stuck. Until now.

Changing with the Times
After all this time, why change the name? We've evolved to better serve our readers. While we honor Doc's work, we're a long way from the "plenty of photos and classified ads" model he started with more than 40 years ago. We feature stories by and for drilling contractors. We have expert columnists talking about safety, fluids, equipment and a range of other topics. Our podcasts and videos feature experts in everything drilling, from manufacturers and suppliers to hydrologists and, of course, drillers. People still turn to us for Classifieds — we just deliver them to your inbox a lot quicker than your mailbox.
As we thought about that wide variety of offerings and considered an update to the name of the magazine, no name we could think of encompassed all of it. Then we thought, who do we serve?
National Driller.
Of course. It's so simple. It's our audience. It better reflects the global reach we've had for years and are only expanding. It better reflects why we do what we do: the interviews with industry leaders, the product coverage, the jobsite tips and tricks, the latest news and views. We do it all for the driller.
That's you. It's always been us. This one more change for 2020 makes it official.
What do you think of our new name and new offerings? Let me know. Send an email to verduscoj@bnpmedia.com.
Stay safe out there, drillers.