Our son "Piglet" returned to Haiti the first part of April to evaluate an old Buckeye 22-W cable tool drill. The old truck under the drill is pretty much history and the final decision is still out on the drill.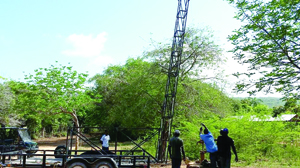 Columnist Porky Cutter's son, Chris Cutter, designed this pump hoist out of 1-inch lightweight square tubing, the kind often used in gate construction in Haiti. The mast is 24 feet. Source: Chris "Piglet" Cutter

Piglet was then asked to travel to another part of Haiti to assist a friend with some repairs to a Buckeye 20-W. It seems as though the master drive clutch (engine clutch) wasn't working properly. Piglet ordered the proper parts after finding the wrong replacement clutch had been sent by the supplier.
While waiting on the parts, Piglet had been asked to fabricate a tripod to be able to pull and repair existing broken hand pumps. He immediately found that the proper supplies weren't available to build a tripod. All that he could locate was some 1-inch light weight square tubing that is popular in Haiti to build gates. Piglet purchased the tubing and contracted a welder (gate builder) to fabricate a 24-foot mast out of this 1-inch tubing. In four days they had fabricated the mast and a frame for the mast, and purchased and installed pulleys and an ATV electric winch. The pump puller is currently mounted on a trailer but can be easily switched to a truck.
After testing it, they took the pump puller to a site to pull a 160-foot deep hand pump well. Everything worked great, they continued to pull and repair several other pumps while waiting on the repair parts to arrive for the rig.
Service and repair of hand pumps is a lost art. Other than windmills, not many people in the U.S. use deep well hand pumps anymore. In developing countries most people use an India-made Mark II pump — not because they are the best pumps, but they are well known in developing countries. The down-hole components usually consist of a brass-lined cast iron cylinder and a brass plunger with a triple cup seal of nitrile rubber (personally, I prefer leather cups). The drop pipe usually consists of 1¼-inch galvanized pipe and the 3/8- or 7/16-inch pump rods are of galvanized steel. The top head consists of a Mark II pump specially designed in India. Personally I would prefer made-in-America products, but there aren't many made here that I know of anymore.
In the meantime, Piglet was contacted to travel to another part of Haiti to teach people to drill with a rebuilt Ingersoll-Rand T-4. At the time of this article that job is still pending. Our company policy is that we never leave one job until it's completed. We currently have jobs pending in other developing countries; some have equipment and some don't.
I usually stay in the office and support Piglet  in the field and locate what he needs from the U.S.
What we need is drilling equipment and pump rigs donated to us so that we can refurbish them and offer them to groups in developing countries. We have formed a non-profit tax deductible organization called Ground Water International Solutions.
We derive so much satisfaction and pride when we can get people safe water in developing countries. They appreciate it, whereas in the U.S. people expect it.
I recommend if you have the opportunity to visit any reasonably safe developing country to assist with well drilling, do it. It's an experience you will never forget. If you are approached to go and you're not interested, send the contact to us.
Keep watching my articles for more about Piglet's travels.
---
For more Porky columns, visit www.thedriller.com/porky.