For more years than I can remember we have written articles for
National Driller
. Most of these articles are on specific drilling conditions and solutions, some are about drilling innovations and some just general business.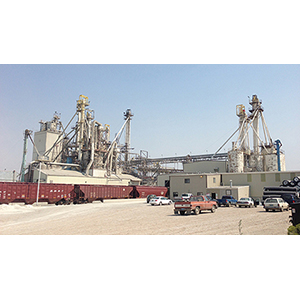 The distance of a bentonite source to the plant means higher hauling costs for producers.
Source: CETCO Drilling Products
This month, I am going to try something very different. We are asked many questions about the mining, hauling and future supply of bentonite. The following is a short interview with Jason Schneider, mining operations manager with American Colloid Company (ACC). In fairness and full disclosure, ACC and CETCO are both Mineral Technologies Inc. companies, but some of the answers can apply to other bentonite producers in the Bighorn Basin.

Q. How would you describe your position as a mining operations manager?
A. I oversee the U.S. mining operations and hauling of the raw bentonite.

Q. We teach in our "mud schools" that the Bighorn Basin has the best sodium bentonite reserves in the U.S. What makes up the basin?
A. This area is one of the best reserves of sodium bentonite on earth. The boundaries are the Bighorn Mountains (east), the Owl Creek Mountains (south), the Absaroka Range (west), Beartooth Mountains (Northwest) and Pryor Mountains to the north.

Q. What type of clay is found in this area?
A. This is high quality sodium bentonite, more suited for drilling than a calcium clay found elsewhere.

Q. To address the title of this article, do we have enough bentonite to continue using it in the drilling industry?
A. Yes. Speaking for our company, we are well positioned for reserves. Since 1927 that has been our key objective — acquiring reserves. We are always at least 20-years out for any product.

Q. What type of reserves are there?
A. Federal, private and state.

Q. How do you acquire a reserve on a federal land?
A. We look at several things including geological surveys, mapping and other material from the United States Geological Survey (USGS) to determine likelihood of a good reserve of bentonite. After that we stake a claim much like prospectors for gold did in the 1800s. We post the land and then file the claim.

Q. How is that different from a reserve on private land?
A. If the land is held privately we negotiate with the land owners and agree on a fair price to mine their reserve.

Q. Since you are always positioning for 20-plus years of mining, many of these claims must be quite a distance from the original plants. How does this affect bentonite prices?
A. The farther all of us get from our plants, the hauling cost increases from the mine to the plant.

Q. Let's talk about the clay reserve itself. Can you describe the material layers?
A. We first remove the top soil and the overburden to uncover the bentonite.

Q. There are several bentonite layers in a reserve, correct?
A. Yes. Between the layers of bentonite is a layer of inner-burden that is removed to expose the next layer.

Q. Some of these mines have several layers. Do you harvest all of them?
A. It depends. The deeper you go the more costly it is to mine. It is an economical decision. Because we are well positioned with reserves, in some cases we may sell the deeper reserves to another company to mine.

Q. A recurring question we get is about the different colors of bentonite and what effect that has on product performance. How would you address that?
A. In the Bighorn Basin we get variations of yellow, brown, green and blue clays. A high yield or oxidized clay will look different from a blue/gray reduced clay found deeper and used for bentonite chips. We source multiple beds and each bed has its own unique color.

Q. Are there other natural materials found in the reserves?
A. There are always natural concretions found in the bentonite beds. As the volcanic ash landed in the ocean, these settled out with the bentonite.

Q. What is our responsibility when we have completed the mining operation of a reserve?
A. We return the land equal or better than its original state. As we remove the topsoil and overburden from one bed we are filling in a previously mined reserve.

For readers that have not visited the Bighorn Basin area — I encourage it. Yellowstone National Park and many other natural treasures surround the basin where our most valuable "drilling tool" is mined.
---
Todd Tannehill is global leader and North American regional sales director for CETCO Drilling Products. Contact him at todd.tannehill@cetco.com.