When was the last time you took time from the grind of the latest project to build your skills? If you're like me, the answer is probably "too long."
If you live and work in the parts of the United States that get a snowy winter, you're likely standing on the verge of busy season. Heck, the ground was frozen down into Georgia and Texas this year, so that may apply to my whole readership. But, weather conditions aside, a contractor's life is a life of hustle. You work one job while you think about the next and dream about securing the one after that. Some days, taking a minute to eat lunch in the cab of your rig or work truck counts as a luxury.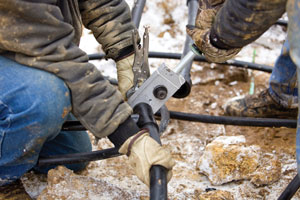 Instructor Ryan Carda is an expert on ground-source heat pump system design and installation.
I get it. We're all busy. But hear me out.
National Driller wants to help you keep your edge — maybe even add another tool to your toolbox. Last month, we opened up registration for our first online course. We're calling it our Geothermal Driller Master Class. It runs April 27 through June 5.
I know you probably think hands-on is the only way to learn anything drilling related. But we've structured it to maximize what you get in front of the screen, and to maximize your edge in front of potential clients afterward. Our instructor is geothermal vet Ryan Carda, P.E., a mechanical engineer at Geo Pro Inc. and cofounder of Geo-Connections Inc., creators of the LoopLink geothermal design software. It always sounds like a cliché, but he literally wrote the book on geothermal installations. His "Design and Installation of Residential and Light Commercial GSHP Systems" is a go-to reference guide, covering everything from load calculations to configuration to flushing and purging.
Unlike field training, which happens at a set place and set time, our Master Class is built on flexibility. It's self-paced skills building that doesn't require you to travel. This training fits your schedule, as opposed to the other way around.
Plus, we've partnered with the International Ground Source Heat Pump Association (IGSHPA) so you can take a quick test after the six-week course and get accredited. It's a great opportunity for contractors and their crews who are branching out into geothermal, or for those working there already who want to confirm what they know. Think of it as a marketable basis for a solid geothermal business. When potential clients contact your office about geothermal, you can assure them you're IGSHPA accredited. The peace of mind that can give customers can mean more contracts.
I'm pretty good at what I do. I'm sure you are, too. But I can't think of a time when I've gotten a good training and regretted the time spent. They've all added value for my current job — or the next one. Learning new skills is the best path to growth, both professionally and for your company.
And this course is just a first step. We plan to develop others. It's a path to growth — for you and for National Driller. I'll let you know when those courses are and what topics they cover when the time is right.
Think about it. It's a great opportunity for aspiring and working geothermal drillers. But don't think about it too long, because early signups get a discount.
Questions? Drop me an email at verduscoj@bnpmedia.com.
Stay safe out there, drillers.