A few weeks ago, I decided to make the road trip from Williston, N.D., to Brunswick, Ga., a distance of about 2,100 miles. Winter in the Bakken had hit early (17 below one night), and I was burned out, so I felt it was time to go home for a while. Since I intended to drive my personal truck, I thought it might be a good time to take some of the gear I had accumulated over the years home with me, things that don't go very well on airplanes — like my gun collection.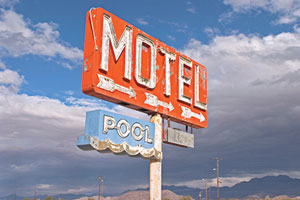 If you ever end up driving cross country with columnist Wayne Nash, take our advice and don't let him pick the hotel.
Lottie decided to make the epic journey with me, so I flew her up to North Dakota to help. And help she did. I didn't know that I had accumulated so much stuff. Not the kind of stuff you want to throw away, but not the kind of stuff you use every day. Like ammo … can't have enough of that.
The weather had been very cold, with an early onset of winter. Two weeks before it had been 17 below zero. That's cold as an ex-wife. Fortunately, by the time I got ready to go it was warming up. When Lottie arrived it was near freezing and the usual high plains wind had died down to a dull roar. We rented a U-Haul trailer and spent a couple days packing up my shack for the trip.
As it got closer to time to leave, the weather started to take a turn for the worse. The temperature hovered around freezing, but snow and slashing rain was forecast. This is not a good combination. Snow is fine, just follow the plow. Rain is tolerable too, just turn on the wipers. But, a combination of rain and snow is dangerous. First it rains. Then as the temperature drops, it turns to sleet, freezing to the roads and making travel somewhat iffy. Then you get snow on top of the ice. The next morning, it warms up, freezing the entire mass into an (in our case) interstate skating rink. The plows can remove the snow, but there remains a millimeter of ice, which is just enough.
We left the Bakken at noon, initially figuring to drive mostly during daylight hours, so at a little after dark, we shut down and got a room. Since it gets dark so early at that latitude we had plenty of time for supper, but the weather was worsening. By morning, an ice fog had set in that rendered visibility to about 100 feet at most. The Weather Channel said a huge blizzard was coming from the west, so in the morning we got moving as early as we could. It was a miserable day. Visibility zero, black ice and a number of people (mostly with Texas plates) that saw the 75 mph signs and thought that was the appropriate speed. Strangely enough, they all made it to the scene of the crash first. We saw plenty that day. We ran on, safely, at 35 mph in four-wheel drive without incident.
I was watching the weather and realized that a huge storm was coming from the west, so I figured by going east I might outrun it. After all, how fast can it move? The next morning we started out in another ice fog that rendered the entire world grey. A glimpse of the sun was a forlorn hope. Usually, on long trips, Lottie and I alternate driving, but under those conditions, I drove, and she worried —  something most women are expert at.
We made it to Sioux Falls that evening. The front edge of the blizzard was keeping up quite nicely. I would have pushed on, but I discovered that my tail lights had failed. Further travel was not an option. In the morning, I didn't see any fuse problems or anything obvious so I resigned myself to the tender mercies of a road-side shop whose reputation or abilities were completely unknown to me. I pulled the truck into the shop and we went to eat. Lo and behold, by the time we returned, the mechanic announced that a ground wire was cut. Repaired and on the way for less than $50. Sometimes you do run into a good job at a fair price! Kudos to Sapp Bros Truck Stop, somewhere on Interstate 29.
As we made our way south, the blizzard turned from snow and sleet to fog and a blinding rain. I think I saw on the weather that they called it the pineapple express. Personally, I didn't see any pineapples, or any other kind of fruit, but it was a huge storm. I also heard from a friend in North Dakota, where the heart of the storm settled, that the weather was bad enough that for the first time in 14 years, they closed the McKenzie County schools. This was an event! In Georgia, if snow is forecast for next week, they will cancel the rest of the year. Not really. But in North Dakota, the school busses are all four-wheel drive and the drivers grew up there, so it takes quite an event to shut them down. I didn't feel so bad about a little rain. We were still on the leading edge of the storm, but at least we were south of the blizzard.
That evening, we made it to St. Joseph, Mo. After all that rain and having to stay "up on the wheel" all day, I was tired, and besides, we were just about out of the storm. Looking for a room, I programmed my GPS to find a motel. Sure enough, right down the road was a place, national chain, not too pricey, etc. I drove down and pulled in. The parking lot looked a little dark and the clerk looked like they recruited him from a homeless shelter. He said "cash only" and named a ridiculously low price. I should have thought something then, but NO, I was tired. I paid, got the key and went exploring in the unlit back 40 for the room. When I finally opened the door, a rat was sitting calmly on the bed! Enough is enough! I went back to the desk and told the wino that I wouldn't even bring a hooker to his dive, and gimme my money back! I was prepared for an argument, but I guess he took one look and decided it might be a good idea not to argue. To give you a picture of this place, it looked like the Bates Motel.
Down the road we went. You wouldn't believe the difference in a Hampton Inn. Civilization. Hot water. Flush toilets. Continental breakfast. Little things like that!
By the next morning, the storm that had been chasing us for three days had moved northeast, and we made the last 1,000 miles in record time. It's good to be back in Georgia for a while and warm my bones.
---