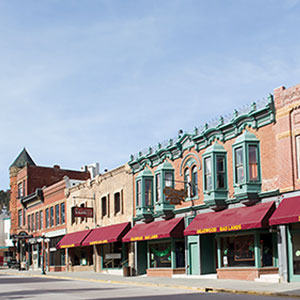 Columnist Wayne Nash renewed his vows recently in Deadwood, S.D., the town where James "Wild Bill" Hickok met his end. Source: iStock
I came back to North Dakota for my latest hitch in late January. There was definitely a chill in the air. On Jan. 31, it was 51 below, and the amount of daylight seemed like about 15 minutes a day. February was even shorter. By March, a month that in more southerly climes would be considered the onset of spring, the days lengthened slightly and the bitter cold turned into spring blizzards. April brought an occasional day above freezing, hinting at good weather to come, but didn't give up easily. It snowed 4 inches on the last day of the month.
I guess the length of my hitch and the wonderful weather got to me a little bit, 'cause my co-workers got up a pool to bring Lottie up here so I would have some "adult supervision." She arrived May 8, sorta like a mail-order bride. Trying to make a good appearance, I hauled off approximately 12 cubic yards of detritus that had accumulated in my quarters, and even made enough room in the truck for her to fit. (I'm glad she's on the thin side …)
After a peck on the cheek, a $300 trip to the grocery store and a thorough cleaning of my quarters, domesticity had returned to the Bakken.
The days passed quickly. I made a few jobs and, in between, we shopped and did tourist-type things that had never occurred to me to do in the years I've been working up here. One night, Lottie announced that May 27 was our anniversary — this year celebrating 27 years together – and she thought it would be a good idea if we renewed our vows. I reckoned that was alright with me — kinda like renewing the lease … so the planning started. Clothes were the first order of business, since about all I had were work clothes and she only brought casual clothes on this trip. We decided to have a Western-themed wedding, and as the best Western wear store west of the Pecos is in Casper, Wyo., that would be the first stop on our expedition.
I took my name off the schedule and officially went on "days off," for the first time in months. The next morning we headed south across Montana and Wyoming for Casper, a beautiful drive across the High Plains. We made it to the Western wear store and the spree began. Afterwards we got a room and discussed our plans. In keeping with our Western theme, we decided to extend our sentence in Deadwood, S.D.
Since we had a few days before the 27th, I decided to head south to Vernal, Utah to visit my boss, whom I hadn't seen in months. The thing is, the main roads between Casper and Vernal do not go in a straight line. I looked at the map on my phone, and decided that maybe there was a shortcut that would save a couple hundred miles. I programed my GPS for "shortest route" and off we went.
We were soon many miles south of Casper on an old two-lane road that had seen better days. Eventually, Lottie asked if we were lost. I said, "No, the GPS knows where to go," and we kept going. When the infernal device showed that we had 62 miles to go to our next turn and pavement ran out, we crossed our first cattle guard. Lottie was sure we were lost, but I reassured her by saying, "The GPS knows where to go. What could go wrong?"
Nineteen cattle guards later, two stretches in 4-wheel drive and enough recriminations to shame a pimp, we came out right where I planned, in the middle of nowhere, lost as a dog with a Bible. We eventually arrived in Vernal in about twice the amount of time it would have taken had we not traveled the scenic route. I assured her that we had saved thousands of miles.
I spent the day at our corporate headquarters and we had a fine dinner with my boss and his wife. We planned to see some of the Rockies on our way to Deadwood, and since we had just opened a new shop in Fort Collins, Colo., I volunteered to take a few tools over there and see it. On the map, it looked like either a long detour or a straight line. Since I had never seen the straight line route and it went through Steamboat, Colo., it looked good to me. Off we went into the wild of western Colorado.
Lottie asked if the mountains got any higher as we went along. I assured her that the roads were essentially flat and in good shape. After a leisurely lunch in Steamboat and some shopping, I programed the GPS for the shortest route to Fort Collins. This might have been a wrong move, but the long way looked really long and I thought, what can go wrong? After a few miles of a winding narrow canyon, I learned something about Lottie that I had not known in the entire 27 years. She is a definite flat-lander with a strong fear of heights. The combination of a winding road, a rock wall on one side and nothing, not even a guard rail, on the other brought out a side of my sweetie not seen since the Inquisition. Our arrival in the relatively flat town of Fort Collins was a relief.
After spending a couple days in Colorado, it was time to head north to Deadwood — Dakota territory. I headed up U.S. 85 through eastern Wyoming, a historic road and route of the old stage line that ran there. In spite of the many signs reading "85," turns out that was not the speed limit. I was informed by a Wyoming state trooper. He asked why I was going so fast, so I told him where we were going and what we had planned. Then I added, "I'm trying to get her to the bridal suite before she changes her mind." He was chuckling as he said he only gives out one warning a day, and I got it. "Now slow down and get out of here," he added. Lottie offered him a banana. All I could think of was "Trunk Monkeys."
We got to Deadwood and settled into a fine suite at the Franklin Hotel, furnished with authentic antiques and a hot tub.
The next day we met the preacher and his wife, the photographer, to finalize the plan. We had made arrangements to perform the hangin' — I mean ceremony — in a restaurant named Jakes, owned by Kevin Costner. It had fine Victorian/Western décor and didn't open 'til late afternoon, so we did the deed at high noon in front of the hearth in the main dining room. Very picturesque, and a good time was had by all.
After a leisurely afternoon, we had dinner there and enjoyed such treats as elk steak, pheasant and other stuff I can't pronounce.
We spent a couple more days enjoying the sights and each other before heading back to North Dakota and back to work. Lottie will probably stay most of the rest of the summer, and my co-workers are happy with the adult supervision.