Another year, another Groundwater Expo — this time returning to Las Vegas.
If you're among the lucky few thousand attending this year's event, stop by. We're in Booth 351. Head right as you enter the Expo, hit aisle 300 and look for Geoprobe rigs. We're right across from them.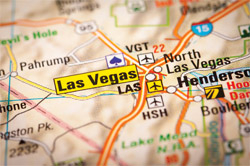 National Driller is in Las Vegas for Groundwater Expo this month. Stop by Booth 351 and say "hello." Source: iStock
If you're not attending, or even if you are, we have a special treat for you in this issue. Associate Editor Valerie King interviewed this year's McEllhiney lecturer, Ronald Peterson of Baroid Industrial Drilling Products. Check it out on page 10.
Now, as anyone who attended last year's awards ceremony in Nashville, Tenn., will attest, Peterson is both humble and knowledgeable. Last year he received the National Ground Water Association's Ross L. Oliver Award.
But, we didn't interview him for his humility (it was a nice bonus, though). We wanted to pick his brain about drilling fluids, grouting and the experience that comes with 37 years in the groundwater industry. Groundwater, obviously, has a special significance for him.
"In my opinion," Peterson says, "we borrow the groundwater from our descendants and we need to leave it in as good or better condition than we found it, making sure that we don't knowingly do anything that may cause any problems."
He could be a spokesman for the industry. This is my third Groundwater Expo. That's not a lot. Peterson says he's attended 20 or 25 times — lost count, I guess. Many of the people I've met at these and other industry events need more than two hands to count the number of Groundwater Expos they've attended.
The constant among those people is their passion for groundwater. As I wrote on my blog recently (quoting a TED Talk), "people don't buy what you do, they buy why you do it." That why shows on all the faces I greet at our Expo booth.
They don't just punch a clock, turn to the right, get the job done and go home. They know what groundwater means to customers and what it means that this industry can provide it. They work hard for the client, whether that client is a homeowner, business or municipality. They work hard because, without water, a home, business or city dries up. 
Contractors in the groundwater industry all know the frantic call of a homeowner who's without water, whether it's a well run dry, a failed pump, whatever. People in the industry have also shaken their heads as whole cities out West shrivel up during the latest drought. The world needs drillers more than ever. You have the skills and equipment to provide a resource that people can't live without. 
So, make the most of Groundwater Expo 2014. Sit in on classes and learn the latest techniques. Drop in on Peterson's McEllhiney lecture and share in a veteran's knowledge of fluids and grouts. Walk the Expo floor to find out about the latest products, gadgets and services to make your life easier. Learn a thing or two, so you'll be more prepared the next time you take that panicked out-of-water call.
"The knowledge of the people involved is constantly improving," Peterson says of the groundwater industry. "It's amazing how much more effective we are when we have the proper knowledge to apply to the tasks that we're trying to accomplish."
Ask yourself, whether you attend Groundwater Expo or not, are you "constantly improving"? If the answer is "no," it'll show in how you get and keep new business. Your customers will notice if your why doesn't show through. Your competitors will definitely notice. Groundwater is an important industry. Get the most out of it and, like Peterson, give back what you can.
Peterson, I think, gets that why. I hope you do, too. Don't just do the job, be the job.  
That why gives one contractor what he needs to be more effective and competitive than the next. It pushes him to stay current on industry best practices. And that knowledge — from Groundwater Expo, a statewide meeting or elsewhere — will show on your balance sheet as numbers edge up year over year. 
Stay safe out there, drillers.
 
Have You Signed Up for Bid Crossing?

National Driller serves a variety of readers, from CEOs down to apprentice drillers. Now, we offer a new service for the contractors among our readership. Bid Crossing can help you find government contracts. Subscribe and get regular updates on contract opportunities near you. It's simple to sign up. Just visit www.thedriller.com/bidcrossing to get started.