SJE-Rhombus is introducing VARIOspeed, a new series of constant pressure controls for variable speed pumping applications.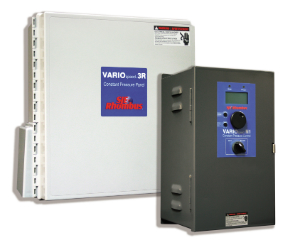 The series offers an economical, pre-engineered control solution using a factory-programmed variable frequency drive. Source: SJE-Rhombus
VARIOspeed can be used for submersible deep well pumps, booster pumps and irrigation pumps.
The series uses a factory-programmed variable frequency drive (VFD) in a NEMA 1 or NEMA 2 enclosure. The VFD maintains a constant discharge pressure by automatically controlling pump speed, which can result in energy savings of up to 50 percent. It features an easy-to-use keypad and backlit display for user friendly setup.
The new constant pressure controls come in two styles, VARIOspeed N1 and VARIOspeed 3R. The N1 comes in a NEMA 1 rated enclosure for indoor applications. The 3R, which comes in a NEMA 3R rated enclosure, can be used indoors and outdoors. Both models are available in 1.5 horsepower through 20 horsepower and feature an LCD display.
Non-VFD experts can feel comfortable operating the systems because the configuration is simplified using pump terminology.
VARIOspeed offers PID control, adjustable electronic overload, Auto Start on pressure drop and Auto Stop on low Hz.
SJE-Rhombus is a manufacturer of control solutions for water and wastewater applications with 40 years in the business. It provides residential, commercial, municipal and industrial applications.  The company does business globally from six locations across the United States and Asia. To learn more, visit www.sjerhombus.com.