Flomatic Corporation introduces a new, special patent-pending submersible pump check valve for use with variable-frequency drive (VFD) control submersible pumps.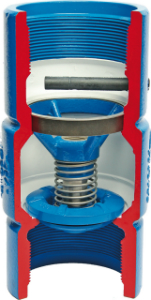 Standard check valves will "chatter" and be noisy when a VFD goes to low flow, causing premature wear and eventual failure. The unique Model 80DI VFD valve is designed to minimize flow losses and hydraulic shocks in the pumping system. It features a standard epoxy coating (NSF approved powder) ductile iron body to support deep set pumps. An exclusive stainless steel guided poppet system ensures that the valve automatically adjusts noiselessly from high to very low flow rates. The radiuses of the valve seat allow a self-cleaning "one point swiping action" by the radius-edged custom molded rubber seal disc. All internal parts are made from corrosion-resistant materials and have a high strength durable design.
For more detailed information on Flomatic's new Model 80DI VFD check valve installation or to obtain a copy of the new 2014 condensed valve catalog, visit www.flomatic.com, email them at flomatic@flomatic.com, call Flomatic Corporation at 800-833-2040 or fax them at 800-314-3155.