RigKits LLC, as of April, is doing business as Hammer Drilling Rigs, a rebranding the company says will help them better serve customers.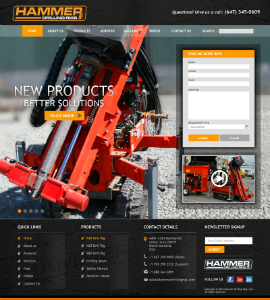 Hammer Drilling Rigs rolled out a new website to reflect the new branding. Source: Hammer Drilling Rigs
"The economy in 2009 called for a more cost effective option to a finished machine, and we have been very successful with the rig kit option," said Elliott Duck, Hammer's sales and marketing manager. "We still offer the kit option, but our main focus has always been on finished machines and turnkey drilling solutions, and we want to make sure our potential customers know that as we continue to grow."
The company will still manufacture the modular rig kits and retrofit components it is known for under the name RigKits, which continues as a sub-brand to Hammer Drilling Rigs.
Hammer Drilling Rigs rolled out a new website last month, as well. It features the company's latest rig models, mast attachments and other drilling components. The company says the site was designed for easy navigation, so clients can see specifications, photos and videos from a central equipment overview page.
"One of our main goals was to build a user-friendly site with an intuitive navigation layout so that our visitors can easily find the right content based on their drilling and equipment requirements. We hope it improves our customers' overall experience with the site," Duck said.
Hammer Drilling Rigs, which is based in Charlotte, N.C., brings together almost 40 years of drilling experience and design expertise. It manufactures cost effective drilling equipment and supplies it to markets worldwide. For details, visit www.hammerdrillingrigs.com or email brandon@hammerdrillingrigs.com.