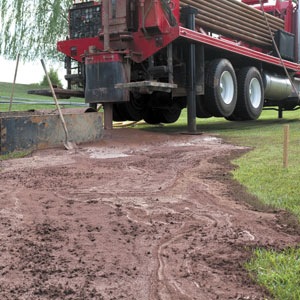 The International Ground Source Heat Pump Association holds regular training workshops for drillers, installers, loop designers and others. Source: iStock
National Driller attended last fall's International Ground Source Heat Pump Association Technical Conference and Expo in Las Vegas. We did an extensive interview with the keynote speaker, Eric Corey Freed, leading up to the show, but it took us a while to nail down an interview about the group's Accredited Driller's Workshop.
The workshop covers everything from system design basics to conductivity to grouting, and is intended for drilling contractors, business owners and others trying to make a go of it on the geothermal side. Attendees are granted Accredited Vertical Loop Installer status and also get IGSHPA membership. The class complements the group's Accredited Installer Workshop. Both workshops are held several times a year at the group's Stillwater, Okla., training facility.
We conducted an email interview with driller Dominique Durbin of Durbin Geothermal in Beecher City, Ill., and Roshan Revankar. Durbin is one of the workshop's trainers and Revankar is IGSHPA's training manager. This is an edited excerpt of that conversation.
Q. Tell me a little bit about your background, Dominique. How long have you been a driller, how long have you been involved with geothermal?
Dominique Durbin: I have been drilling ground source geothermal loop fields since 2001. We had a successful trucking and excavating business when my father began building his house. He was told there was a six-month backlog before a drilling rig would be available to install loops for his house. Our shop is located in a shallow oil patch in central Illinois, so finding a suitable drilling rig and competent operator was not terribly difficult. Our excavating business already had most of the support equipment and machines necessary to install loop fields.
I started my drilling career running a shovel behind a 1962 Failing 1500 Holemaster. At that time, there weren't many options for training. I went to Fort Wayne, Ind., and took an IGHSPA Accredited Installer Course at Water Furnace's headquarters taught by Sonny Hampton. I was really thrown in over my head. The course was geared for HVAC installers to transition to designing ground source heat pump systems (including ground loops). I had a fair understanding of dirt and rocks, but absolutely no knowledge of refrigeration systems.
I passed the course, but when I came home I immediately reached out to the equipment manufacturer representatives and wholesalers. We simply asked, "How do you want this done?" From there, our company's methods were adopted to meet the expectations and requirements of the people selling the systems. As they grew, so did we. I never passed up an opportunity to go to training sessions or seminars. We now have seven drilling rigs, a directional boring rig, and close to 20 support trucks and machines. I have acquired driller's licenses for most of the Midwest and nearly every certification available in the industry. I became a trainer in 2006 or 2007. At this point, the years run together … I have taught the course locally and a few places around the country. I was even invited to Delhi, India, a few years back to present an IGSHPA installers course. That trip is worth an article in itself ... I've never seen a more prepared group of individuals.
Q. Talk a bit about attendance and interest at the recent course. How many drillers attended, what were their backgrounds like?
Finding a Workshop
IGSHPA's next drilling workshop is Feb. 19-21 and the next installer workshop is March 12-14.
Both trainings are held at the group's Stillwater, Okla., facility. For more about these and other upcoming IGSHPA training events and to register, visit igshpa.okstate.edu/training or call 800-626-4747.
More on Geothermal
For more stories about geothermal drilling and contracting, including our two-part interview with architect Eric Corey Freed, visit www.thedriller.com/geothermal.
Roshan Revankar: Training is vital in any industry, especially in the ground source heat pump industry. Without training and accredited installers, ground source heat pumps have a greater chance of being installed incorrectly. Nineteen drillers attended the course in Vegas, mostly from a water well drilling background. Some were installers wanting to make sure the ground loops are correctly installed.
Q.Can you talk a bit about the history of the Accredited Driller Program? When did IGSHPA see the need, how was the course developed?
RR: IGSHPA has formed this training course to provide drilling contractors with information that's unique to them on a GeoExchange jobsite. This workshop will train individuals on proper construction and completion methods for vertical GeoExchange boreholes.
Q. Are there misconceptions about the training that you commonly see among drillers? That is, do they get to the training and say things like, "Oh, I didn't realize I wouldn't be learning _____"?
DD: I have had a few participants mention that they expected the training would include more time on actual drilling techniques and practices. I guess it is an easy misconception to draw, but the course assumes the participants know how to run their rigs and make a hole in their area. We do touch on methods of drilling, but the idea is that if you show up as a driller, you will leave as a geothermal driller. If you aren't a driller when you come, you won't be when you leave. You will know what is supposed to happen, but not necessarily how to make it happen. Also, many participants aren't aware that we cover so much on the heat pump operations and installation. Understanding the fundamentals of the heat pump unit is very important to understanding the ground loop or even a single borehole's influence on the performance of the complete system.
Q. How many trainers are involved? What are their backgrounds?
RR: Twenty-two trainers teach this course. Most of them are from a geothermal or water well drilling background and are in the geothermal heat pump industry.
DD: … I teach the course at the IGSHPA conference every year because I love talking shop with other drillers and they give me a free shirt. I'm a big believer that poor installations or inadequate designs will cost the industry more opportunities than any number of good installations can offset. My favorite part of the course is when I get to ask the class why something is important, and then share my own lesson learned with real dollars and cents.
I think having a trainer whose background is that of a contractor can be a huge benefit to drillers looking to start and gain a foothold in this industry. Durbin Geothermal is my full-time job and my bread and butter. I don't rely on training as a source of income; it's more of an excuse for a vacation. So, if any of your readers need an experienced, qualified driller trainer somewhere fun or exciting, look me up.
Q.Can you tell me about the Stillwater, Okla., training facility? What's there, how does it help drillers learn the craft?
RR: The International Ground Source Heat Pump Association (IGSHPA) is a non-profit, member-driven organization established in 1987 to advance ground source heat pump (GSHP) technology on local, state, national and international levels. Headquartered on the campus of Oklahoma State University in Stillwater, Okla., IGSHPA utilizes state-of-the-art facilities for conducting GSHP system installation training and geothermal research. With its access to the most current advancements in the geothermal industry, IGSHPA is the ideal bridge between the latest technology and the people who benefit from these developments.
 With hands on experience with fusion techniques, flushing and purging systems and also designing systems, the driller's course gives participants an upper hand over their competitors.