Charles J. Berkel, a founding member of the Deep Foundations Institute and chairman of Berkel & Company, died early this month. He was 88.
Beyond being a charter DFI member, Berkel received the group's 207 Distinguished Service Award and was a major donor to its Education Trust Scholarship Program.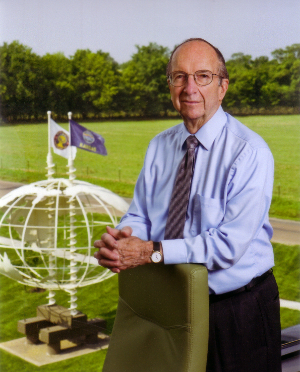 Charles J. Berkel built Berkel & Company into one of the largest piling contractors in the U.S. Source: DFI
"Charles Berkel's generous donation was the foundation for the Trust's successful scholarship program," says David Coleman, chairman of the DFI Educational Trust. "A prominent engineer and respected industry leader, Charles recognized that that the future of our industry depends on our ability to encourage and engage promising young engineers to consider careers in the deep foundations construction field."
Berkel gave $1 million to establish a scholarship in the name of his company. Each year, it provides $50,000 to students pursuing careers in foundation drilling and construction fields like civil engineering and construction management. The annual scholarships are divided equally among four universities: University of California at Berkeley, University of Illinois, Auburn University in Alabama and the University of Houston. Since 2008, more 41 students have shared in $286,000 in scholarships. Click here for details about the Berkel scholarships.
Berkel graduated with a bachelor's in civil engineering from the University of Illinois in 1946. He established himself in the industry before launching Berkel & Company in 1959. In the decades since, the company has grown into one of the largest piling contractors in the United States.
Funeral services were held Nov. 8 in Lenexa, Kan. The family suggests donations in Berkel's name to University of Saint Mary, Leavenworth, Kan.; the Sister Servants of Mary, Kansas City, Kan.; or Sacred Heart Church in Shawnee, Kan., in lieu of flowers.
 The DFI is an international association of contractors, engineers, academics and suppliers in the deep foundations industry with more than 3,300 members worldwide. For more information about the Deep Foundations Institute, visit www.dfi.org.