Thompson Pump and Manufacturing Co. announced the winner of the company's Gator Giveaway Sweepstakes. Jeremy Eckroth, an environmental specialist at the Falkirk Mining Company, submitted the winning entry.
Falkirk Mining Company, Eckroth's employer, wins a John Deere XUV 825i Gator Camo Utility Vehicle. Flint Power Systems provided the prize. The John Deere distributor is based in Albany, Ga., and serves North Carolina, South Carolina, Alabama, eastern Tennessee, Georgia, Florida and the Caribbean. The ATV has a retail value of more than $13,000.
"This promotion was a great way for us to show our appreciation to the hard working people in the markets we serve," said Bill Thompson, Thompson Pump president.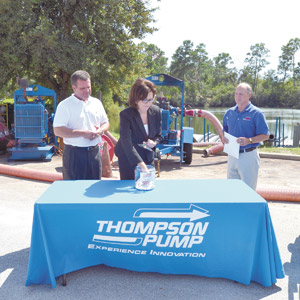 Thompson lawyer Susanne McCabe draws the contest winner as Brian Schneider of Flint Power Systems, left, and Bill Thompson, president of Thompson Pump, look on. Source: Thompson Pump
The winning entry was drawn in early September at Thompson's Port Orange, Fla., headquarters. Eckroth entered the contest at MINExpo in Las Vegas in September 2012. The company collected entries throughout the year at trade shows across the country.
Falkirk Mine is run by North American Coal Corporation, and produces about 7 million tons of coal per year. The coal goes to Great River Energy's Coal Creek Station.
 Thompson—family owned for 43 years—manufactures a variety of pumps ranging in size from two to 18 inches and with capacities up to 14,000 gpm. The Florida-based company sells and rents its entire line to customers in sectors including public works, construction, agriculture and mining. The company operates 21 branches throughout the United States and has a worldwide network of distributors. It also has achieved ISO 9001 quality certification for their Port Orange, Fla., manufacturing facility. For more information, call 800-767-7310 or visit www.thompsonpump.com.