Hayward Baker of Odenton, Md., led the list of this year's ADSC: The International Association of Foundation Drilling awards. The company wins the group's prestigious Rick Marshall Commitment to Excellence in Safety Award.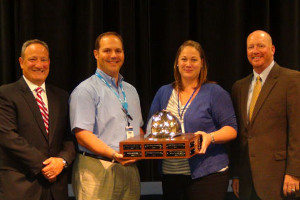 From left, ADSC President Tom Tuozzolo; Robert Carnevale and Christie Weinstein of Hayward Baker; and Michael Moore, ADSC's chief executive officer. Source: ADSC
The award honors the group's safety committee chairman and his dedication to safety.
This year featured 19 other winners representing U.S. contracting companies, large and small. Selection officials judges entries on loss time accidents, restricted duty/transfer rates and dedication to safety programs and procedures. Review and analysis of entries was conducted by ADSC safety committee members, as well a representatives of the U.S. Occupational Safety and Health Administration.
Three Canadian firms and five manufacturers and suppliers also received honors.
Keller subsidiary Case Atlantic Co. of Clearwater, Fla., took home the Dave White Most Improved Safety Program award.
Readers can find a complete list of this year's winners in the ADSC's Foundation Drilling magazine. Email knephew@adsc-iafd.com for a copy.
The ADSC is a trade association representing contractors in foundation drilling and heavy civil construction, as well as manufacturers and suppliers that serve those sectors. For more information, visit www.adsc-iafd.com.