I've had a few days to catch my breath after the National Ground Water Association's 2013 Expo in Nashville, Tenn., and wanted to share some of my thoughts.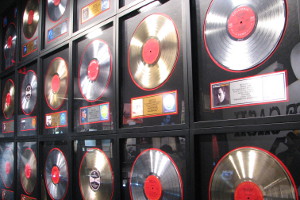 It's not all Expo: I got a chance to break away to see the Johnny Cash museum. Source: Jeremy Verdusco
First off, Music City Center is a thing of beauty. The convention center nestled into downtown Nashville opened just a few months ago. My first question to NGWA folks was, "Did you book this space for next year?" Alas, 2014's show returns to Las Vegas. I know, a lot of people love Las Vegas. Me, not as much. I think a lot of it has to do with me not being a gambler or a smoker. But, hey, we go to NGWA to see that latest products and network, not to drop quarters in slots. Right?
NGWA even divides their show stats into "Vegas" and "non-Vegas."
"The 2013 NGWA Groundwater Expo and Annual Meeting ranks fifth all-time among our non-Las Vegas venues in our 65-year history," CEO Kevin McCray said. "Fresh ideas promised a memorable experience and it looks like folks found that to be true. We hope all of our guests left happy and renewed, and ready for a new and prosperous year."
I want to thank McCray and the rest of his crew for putting together a well-run, well-attended event. Good work, guys (and gals).
The Nashville event attracted almost 3,700 people—well drillers, contractors, manufacturers, suppliers, scientists and engineers from all over the country and world. As one of those 3,700, I savored the Tennessee flavor, from the barbecue to the music to the Johnny Cash museum. I even savored the hills (and if you can answer how it was it seemed Music City Center was uphill both ways from my hotel, please clue me in).
The Expo featured nearly 300 exhibitors and NGWA says a full 10 percent of them were first-timers. That's a good showing in anyone's book.
Here's hoping those first-timers become second-timers next year in Las Vegas. The group's billing next year's show as "The Complete Groundwater Event," and if this year's any indication, it'll live up to that name.