Every driller knows the value of bentonite. It keeps tool strings lubricated and cools them down. It also helps move cuttings to the surface and build up hydrostatic pressure to keep the borehole tidy. It forms a starting point for water-based muds across most every industry National Driller covers.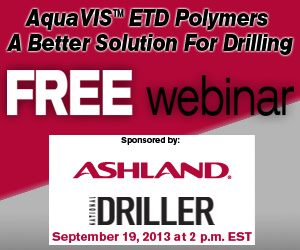 But the chemists at Ashland say they can improve on simple bentonite muds. We're hosting a webinar later this month to tell readers about their ideas, but I can give you a sneak peek here.
Ashland says its AquaVIS ETD Polymers improve uniformity and mixing times for muds in horizontal and vertical drilling, tunnel drilling and other applications. The dispersible carboxymethyl cellulose (CMC) product thickens and strengthens bentonite muds. Click here for a video that illustrates how Ashland's product works.
CMC, or cellulose gum, works in a variety of industries to alter the properties of liquids. It might turn up in toothpaste, eye drops, wine, ice packs or any number of other products. In drilling muds, it changes viscosity and acts to retain water. Ashland says the AquaVIS products also stabilize suspension in those muds. AquaVIS ETD, Ashland says, can yield double-digit savings over "classical" polymers.
The company says it has the "broadest line of polymer-based additives in the industry." But, check it out yourself. If you're curious about Ashland and what it can do for your drilling mud, sign up for our webinar. I'll be there, and you'll have the chance to ask questions of David LeGrand, new product leader for Ashland Specialty Ingredients.
In other news
I wrote recently in this space about a massive ice wall proposed to keep contaminated water contained at the site of the Fukushima nuclear disaster. I read today [6] that the Japanese government has stepped in to fund the project, pledging about $473 million. One can only hope drillers doing what they do best can help alleviate this problem site for now and for future generations.
Stay safe out there, drillers, even if it means wearing a radiation suit to do your job.