I have to take turns speaking to different subsets of the National Driller audience. Sometimes, it's foundation people. Other times, it's geothermal. Today's post is for the rotary folks, whatever market they might work in.
An interesting product popped into my inbox the other day. Max's Enterprises told us about their new auger cleaner. I'm sure the words "auger cleaner" make the ears of rotary-driller readers perk up. Who wants to chip caked on gunk from between auger flighting, let alone dozens of feet of auger, coming up out of gray, mucky clay? Any hands up? I didn't think so.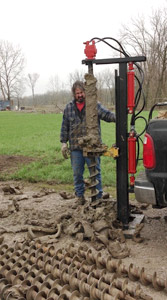 Sticky muds are no match for the Auger Cleaner from Max's Enterprises. Source: Max's Enterprises
As you can see in the picture, the auger cleaner mounts on a support vehicle or rig, so it's there when and where it's needed. Max's Enterprises says it can clean solid stem augers up to 4.25-inch interior diameter, and do the job in seconds. Click through to their website for some short video clips. It's impressive. Now, it's not eat-off-it clean, but it is save-a-bunch-of-time clean, and that's the important part.
The design is clever: It clamps right on as the augers come up from the borehole. Max's also says the cleaner works with augers from a range of manufacturers, so whatever you're using, you're likely covered.
"Nothing's worse than clay-coated augers," Max's website says. "Heavy to lift, hard to clean, a REAL pain." Well, they're trying to lessen that pain. Drillers in geotechnical, environmental or other types of drilling who work with rotary might want to check this product out. And, do me a favor: Send the time you save to me at verduscoj@bnpmedia.com. I can always use it to catch up on work. Or sleep. Or lunch.
Stay safe out there, drillers.