On this episode, host Brock Yordy has a wide-ranging interview with Sam Connelly, president of the National Drilling Association. Connelly, who runs the drilling company Connelly & Associates Inc. in Fredericksburg, Maryland, touches on everything from the NDA's 50-plus year history to the current skilled labor crunch. 
"It's no secret out there what the labor demand is, and it's everybody's largest challenge," Connelly says. "I don't think you can talk to a single contractor, drilling manager or drill rig owner across any trade of drilling right now, and them not tell you that labor's their biggest concern — not just finding drill hands or labor, but finding skilled operators." 
But he's quick to add that finding labor to tackle a mountain of available work — with plenty on the horizon — is a good problem to have. 
"It's a very good place to be in when the demand is this high. All drillers want to be is, they want to be busy and they want to be working. They want to know that that they're gonna be able to work five days a week. It's very scary times when things are slow. So it's a good time to be in the industry." 
First up, in our safety segment, we talk about why it might not be crazy to call OSHA and have them pay you a visit. 
This episode covers: 
Assessing workplace and jobsite hazards with OSHA 
The importance of a good safety program for drilling and construction 
OSHA consultation versus enforcement 
The benefits of participating in professional groups like NDA 
PFAS and other "forever" chemicals 
Hiring younger workers for drilling, construction
Growth prospects for geotechnical and environmental drilling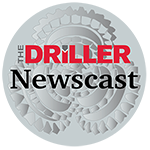 Click the right-hand menu for download options
Thanks for joining us. Tune in each Monday morning for the latest video or podcast. Whether you're at your desk or on the way to the jobsite listening in the truck, start your week with us. You can also find our show on Apple Podcasts and Spotify.
Drilling expert Brock Yordy is a regular The Driller contributing writer. Send news tips and interview suggestions to questions@askbrock.com.