In 23 years with CETCO Drilling Products, I have found drive and motivation in the opportunity (and privilege) to provide technical support and assistance to drilling contractors. When my phone rings, I answer it at night, on weekends and even vacation. I once assisted a contractor while riding on a roller-coaster in Disney World and another time while riding on a ski lift in Flagstaff, Arizona.
Given that, I felt eager to assist when Jesus Leal called from Technología para la Perforatión, a distributor in Monterrey, Mexico. He asked if I could conduct a training seminar on drilling fluids, air and foam drilling for a group of water well contractors. These contractors wanted to learn drilling techniques that could help them reach into deeper aquifers to help mitigate the water crises people face in Monterrey and other parts of northern Mexico.
Monterrey, Mexico, founded in 1596, sits in the northeast section of the country approximately 136 miles south of Laredo, Texas. According to www.datamexico.org, Monterrey, the capital of the state of Nueva Leon, has a population of about 1.14 million, but it anchors a metro region of about 5.3 million people. The city sits in a desert/semi-arid environment with an average annual rainfall of less than 30 inches. However, like the U.S. West, it has also endured an extended period of drought along with higher-than-normal temperatures — all while the population and water demand rise.
Groundwater is at or near record lows and surface water is "unavailable or running low." According to reports, "people have sabotaged pipes that could divert water to other cities" and "truck drivers delivering water have been kidnapped." Some neighborhoods in Monterrey have been without water for 75 days and schools are having to close before the scheduled summer break. In fact, as The New York Times reports, by mid-July 2022, 48 percent of Mexico's territory faced drought conditions compared to 28 percent the previous year.
Until the 1980s, Monterrey used nearby reservoirs that "relied on heavy rains or hurricanes to periodically fill up." Because of the increasing demand for water, dams and pipelines were further built out to help ease the situation. However, an engineer from Servicios de Agua y Drenaje de Monterrey — the local public water utility —told me that the city focused the brunt of water supply on these reservoirs while allowing existing groundwater wells, which were constructed with carbon steel casing and pipe, to fall into disrepair.
I visited the El Cuchillo Dam reservoir east of Monterrey and took a boat ride to see how critically low the water was. The El Cuchillo reservoir (inaugurated in 1994) is one of three reservoirs providing surface water to Monterrey, which together supply around 20% of the city's annual water supply. El Cuchillo's reservoir itself has a storage capacity of 1.46 million acre/feet over an area of about 42,000 acres. Although Monterrey enjoyed a temporary reprieve from water restrictions while I was there, water pressure in the city is dropping. The area prepared for water restrictions and rationing to start again as of May 1. Back at El Cuchillo Dam, fishing guides who make their living on the reservoir told me water levels are far lower this year than the same time last year, making the drought situation even more dire.
Although Monterrey enjoyed a temporary reprieve from water restrictions while I was there, water pressure in the city is dropping. The area prepared for water restrictions and rationing to start again as of May 1.
Leal, who owns Technología para la Perforatión, also has a nice steak restaurant called La Enramada in Cadereyta Jiménez, southeast of Monterrey. We held the training seminar there. I conducted a three-hour seminar on drilling fluids, polymers and additives, air, and foam drilling. The objective? To provide information that could help these drilling contractors reach deeper, more challenging to access aquifers. I also spoke about the importance of properly grouting water wells to protect aquifers from contamination. Around 40 groundwater professionals attended. They wore headsets and a professional translator bridged the language gap between the attendees and myself. They had plenty of questions, so we had good, informative interactions. I found it a great privilege to be there and conduct this seminar.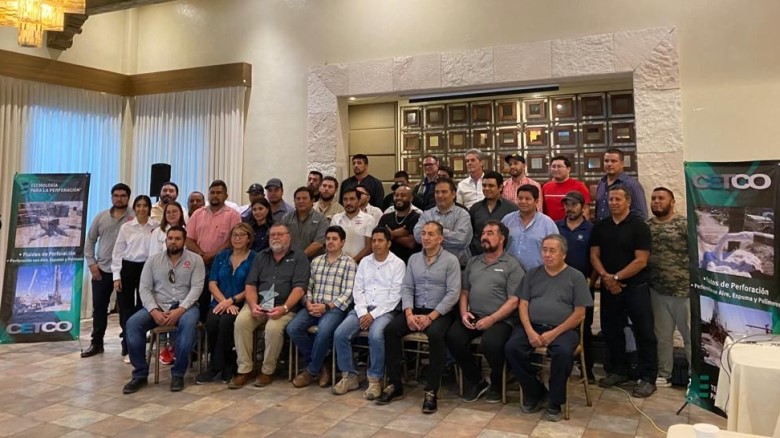 After my presentation, Juan Ferrer with Mobile Drill conducted a presentation on drilling equipment. At the end of the event, Ferrer and I even received awards for providing many years of technical support and experience to Mexico. After the presentations, Leal treated us all to a great lunch provided by La Enramada.
I enjoyed my trip to Monterrey and hope I was able to provide some useful information to help the groundwater professionals who attended the event. Throughout the trip I thought about Monterrey's water shortages, and how parts of the western United States may soon see similar shortages and rationing. Water is our most precious resource, and we must do everything we can to wisely protect, use and recycle this valuable resource.