This week, host Brock Yordy covers a lot of territory, from California's zero-emissions vehicle plans to geothermal's role in New York's energy mix. Yordy gives us his thoughts after attending (and presenting at) the NY-GEO conference in New York. The Newscast has spoken a lot about geothermal and its prospects in states like New York, which has an aggressive decarbonization plan. With that in mind, attending NY-GEO was a no-brainer.
"It was conversations with owners, engineers, regulators and other drillers about how we can all work together and do better," Yordy says.
He shares takeaways from those conversations.
"We have to inspire Gen Z. … We need to get everybody that thinks it's amazing to save the planet and get to drill a hole and discover the unknown, and we need to get them on the back of the rig."
This episode covers:
Reducing fall-related injuries
Fall protection: tie-offs, harnesses, fall-arrest systems and railings
California's plans to cut truck emissions to zero
EPA efforts to address PFAS and other forever chemicals
Rising demand for geothermal in New York
The New York Geothermal Energy Organization (NY-GEO) 2023 conference
Growth prospects for geothermal and ground-source heat pumps
The need for more drillers in geothermal in New York and elsewhere
Geothermal's role in decarbonizing U.S. energy sources
▶ Listen now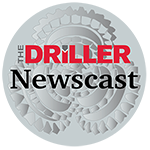 Click the right-hand menu for download options
Thanks for joining us. Tune in each Monday morning for the latest video or podcast. Whether you're at your desk or on the way to the jobsite listening in the truck, start your week with us. You can also find our show on Apple Podcasts and Spotify.
Drilling expert Brock Yordy is a regular The Driller contributing writer. Send news tips and interview suggestions to questions@askbrock.com.