This week, anchor Brock Yordy walks us through options the Department of Interior recently presented to Colorado River Compact states. In our safety segment, we talk about mental health for drilling and other construction professionals.
When it comes to anything water related, Yordy urges drillers and other folks in the groundwater industry to help guide solutions, since drought isn't limited to the Western United States.
"How are we going to work on drought resiliency?" He asks. "Groundwater. How are we going to help the Colorado Compact States? Groundwater."
This episode covers:
Mental health awareness for construction professionals
Discussing mental health at work
Department of Energy funding for geothermal heat-pump production
Saudi-backed alfalfa project rejected in Arizona
Growing water-intensive feed crops for export during drought
Waters of the U.S. (WOTUS)
Explaining the Department of Interior's three plans for the Colorado River Compact and western droughts
How recent "atmospheric rivers" and snows affect western droughts
▶ Listen now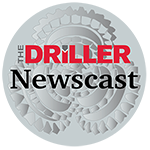 Click the right-hand menu for download options
Thanks for joining us. Tune in each Monday morning for the latest video or podcast. Whether you're at your desk or on the way to the jobsite listening in the truck, start your week with us. You can also find our show on Apple Podcasts and Spotify.
Drilling expert Brock Yordy is a regular The Driller contributing writer. Send news tips and interview suggestions to questions@askbrock.com.