This episode again takes us to the Western United States. Anchor Anchor Brock Yordy lays out some of the complex issues surrounding tribal sovereignty and water access amid historic drought.
"It's been unjust for decades … and those sovereign nations deserve their water," Yordy says. He walks us through rifts between tribal nations and neighboring communities, the tug-of-water over century-old treaties and water compacts, and how water scarcity complicates it all.
This episode covers:
Emergency plans for jobsite fires
Infrastructure Investment and Jobs Act and Inflation Reduction Act funds for drilling infrastructure
Abandoning orphan oil and gas wells
Droughts in the Western U.S.
Tribal water rights amid the historic Western U.S. drought
Senior water rights versus junior water rights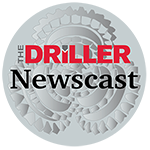 Click the right-hand menu for download options
Thanks for joining us. Tune in each Monday morning for the latest video or podcast. Whether you're at your desk or on the way to the jobsite listening in the truck, start your week with us. You can also find our show on Apple Podcasts and Spotify.
Drilling expert Brock Yordy is a regular The Driller contributing writer. Send news tips and interview suggestions to questions@askbrock.com.