On this episode we start by marking Workers' Memorial Day, which is April 28, a day set aside to honor those injured and killed on the job. Then, anchor Brock Yordy interviews Joe Parsons, senior marketing sustainability manager for Climate Control Group, which designs and manufactures a range of HVAC products and systems, including for geothermal installations. Parsons, a geothermal industry veteran and former chair of GeoExchange, talks about winning drillers over to geothermal work.
"In my opinion, it is a very, very, very large opportunity," Parsons says, "not only for those in the water well industry, but those who are looking to branch out into a brand new career, that are looking to get involved with drilling equipment that is affordable and has production rates that can help support this industry."
They also discuss ambitious decarbonization goals in states like New York, and the raft of federal and state incentives available.
"The only way that you can hit these numbers is with geothermal heat pumps," Parsons adds.
This episode covers:
April 28 marks Workers' Memorial Day or International Commemoration Day for Dead and Injured
Recognizing the anniversary of the Occupational Safety and Health Act of 1970
The formation of the Occupational Safety and Health Administration in 1971
Honoring workers injured or killed on the job
The need for more drillers in geothermal in New York and elsewhere
What makes a drilling rig ideal for geothermal?
Federal and state incentives for geothermal installation
Growth prospects for geothermal and ground-source heat pumps
▶ Listen now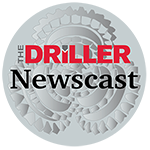 Click the right-hand menu for download options
Thanks for joining us. Tune in each Monday morning for the latest video or podcast. Whether you're at your desk or on the way to the jobsite listening in the truck, start your week with us. You can also find our show on Apple Podcasts and Spotify.
Drilling expert Brock Yordy is a regular The Driller contributing writer. Send news tips and interview suggestions to questions@askbrock.com.