Drilling, while necessary for modern civilization, doesn't exactly have a modest environmental footprint. However, the industry can make changes around the edges toward sustainability, and every bit makes a difference. This week, host Brock Yordy talks to Dean Kangleas, vice president of product services, Sandvik Rock Tools Division, about one such effort for mining customers.
"Without mining, we're going to struggle in the future, specifically when you're looking at electrification and a growing population," Kangleas says. "So, yeah, we need to mine, but I think we can do it differently and be more sustainable and circular in how we actually do it."
The company recently launched an "opt-out" carbide drill bit recycling program and Kangleas discusses it and, more broadly, sustainability in mining.
This episode covers:
Revisiting your safety program
Controversy over water management in France
What it means to "drill responsibly"
Sustainability in mining and other drilling sectors
Mining & mineral exploration
Rock drilling
Tungsten recycling vs. manufacturing from new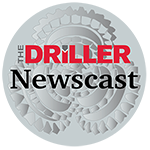 Click the right-hand menu for download options
Thanks for joining us. Tune in each Monday morning for the latest video or podcast. Whether you're at your desk or on the way to the jobsite listening in the truck, start your week with us. You can also find our show on Apple Podcasts and Spotify.
Drilling expert Brock Yordy is a regular The Driller contributing writer. Send news tips and interview suggestions to questions@askbrock.com.