This week, host Brock Yordy starts out with Rachel Bourne, a driller from Hamilton, Ontario, who goes by BourneToDrill on Instagram. In school, she thought she might go into fashion. Tune in to find out how she got into geotechnical and environmental drilling instead.
"To be honest, sometimes I feel like I'm crazy for choosing drilling, but it's been very rewarding over the years," Bourne says. "I feel like I've learned a lot about myself and a lot about other people that I would have never engaged with before."
Later, we talk to Christine Hoffer, executive director of NY-GEO, about the group's April 26-27, 2023, conference in Albany, N.Y., and near-term plans to recruit more drillers into geothermal.
This episode covers:
Tesla's water deal with Mexico
Challenges to recent changes to the definition of "Waters of the United States" (WOTUS)
The roles for women in drilling and construction
Working as a Millennial in drilling and construction
Growth prospects for geothermal and ground-source heat pumps
The need for more drillers in geothermal in New York and elsewhere
Geothermal's role in decarbonizing U.S. energy sources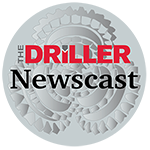 Click the right-hand menu for download options
Thanks for joining us. Tune in each Monday morning for the latest video or podcast. Whether you're at your desk or on the way to the jobsite listening in the truck, start your week with us. You can also find our show on Apple Podcasts and Spotify.
Drilling expert Brock Yordy is a regular The Driller contributing writer. Send news tips and interview suggestions to questions@askbrock.com.