Today's episode takes us to the floor of the Groundwater Week 2022 event Dec. 6-8, 2022, in Las Vegas. Anchor Brock Yordy speaks with Art Steelman of Matrix Drilling Products about sharing industry knowledge, then talks to longtime geothermal advocate Jack DiEnna of the Geothermal National & International Initiative. It's episode 42.
"I don't think you guys know how important it is for you to be here," DiEnna says, speaking directly to the drillers attending this year's Groundwater Week, which brought together the National Ground Water Association, the International Ground Source Heat Pump Association and the Irrigation Association. "Without you as our allies and our partners in crime, we're air-source heat pumps."
"This tech is the only tech that going to meet any goals that they're mentioning about climate change or anything else," DiEnna adds.
This episode covers:
Safety analysis for drilling and construction
The risks of work-alone policies in drilling and construction
The importance of sharing knowledge in industry construction fields
The current state of geothermal tax breaks
What the Inflation Reduction Act means for geothermal
Scaling a construction business through infrastructure and green energy investments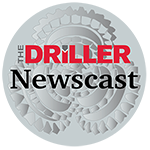 Click the right-hand menu for download options
Thanks for joining us. Tune in each Monday morning for the latest video or podcast. Whether you're at your desk or on the way to the jobsite listening in the truck, start your week with us. You can also find our show on Apple Podcasts and Spotify.
Drilling expert Brock Yordy is a regular The Driller contributing writer. Send news tips and interview suggestions to questions@askbrock.com.