We wrap up a conversation this week with about veterans in civilian drilling and construction. On today's episode, anchor Brock Yordy finishes his conversation with Rob Meyer of Talon LPE, who served in the U.S. Marine Corps, and Jake Fletcher, formerly of the RED HORSE. It's episode 37.
Meyer says the important thing for both veterans and civilians is to share the goals for the project at hand.
"I think, at the end of the day, people want to work with good people who want to do good work," Meyer says. "How are you going to help me on that mission of being a good person and doing good work?"
Part 2 of the conversation covers:
The qualities military veterans bring to drilling, construction
Expectations when hiring military veterans
Financial literacy for drilling, construction professionals
Right-sizing work projects, livable wages for company and employee health
Prevailing wages in drilling, construction
Veterans' views of civilian work
Boosting veteran hires in drilling and construction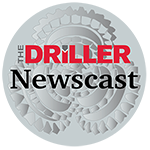 Click the right-hand menu for download options
Thanks for joining us. Tune in each Monday morning for the latest video or podcast. Whether you're at your desk or on the way to the jobsite listening in the truck, start your week with us. You can also find our show on Apple Podcasts and Spotify.
Drilling expert Brock Yordy is a regular The Driller contributing writer. Send news tips and interview suggestions to questions@askbrock.com.