Oral arguments in the landmark Sackett vs. EPA case have begun, and anchor Brock Yordy brings us a recap. Is the definition of "groundwater" about to change? It's episode 34.
"These are discussions we need to be having," Yordy says. "And we need to understand that, by December when we're all together for IGSHPA/National Ground Water Association, there's going to be some other big pieces that have come out."
The court started hearing arguments in Sackett vs. EPA on Oct. 3, 2022.
This episode covers:
Near misses: The Importance of Documenting and Tracking
Historic droughts and effects on the Danube, Rhine, Mississippi and other busy shipping rivers
Flooding and other climate change effects
Waters of the United States (WOTUS)
"Subsurface" water vs. groundwater
The Sackett vs. EPA case before the Supreme Court
How to be proactive on issues important to the groundwater industry
Legal and policy issues in groundwater in 2022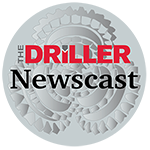 Click the right-hand menu for download options
Thanks for joining us. Tune in each Monday morning for the latest video or podcast. Whether you're at your desk or on the way to the jobsite listening in the truck, start your week with us. You can also find our show on Apple Podcasts and Spotify.
Drilling expert Brock Yordy is a regular The Driller contributing writer. Send news tips and interview suggestions to questions@askbrock.com.