In episode 18, anchor Brock Yordy helps you get your head back in the safety game after the long Fourth of July weekend, then talks to Margaret Martens about the Water Systems Council's new 2022 State of the Water Well Industry report. The report talked to contractors, distributors and manufacturers to assess where the industry is, and where it could be going.
Martens and her group call the report both important and overdue.
"It can benefit the manufacturers and distributors and people who sell to contractors, and turn around and it can help the contractors," Martens says. "And it helps us as an organization know what we need to be advocating for."
This episode covers:
The importance of documenting near misses
What near misses can tell us about our standard operating procedures
The highest-paid jobs in construction
The 2022 State of the Water Well Industry report
Important court cases for the groundwater industry
Waters of the United States (WOTUS)
The Sackett vs. EPA case coming before the Supreme Court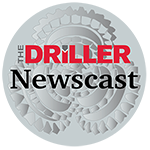 Thanks for joining us. Tune in each Monday morning for the latest video or podcast. Whether you're at your desk or on the way to the jobsite listening in the truck, start your week with us. You can also find our show on Apple Podcasts and Spotify.
Drilling expert Brock Yordy is a regular The Driller contributing writer. Send news tips and interview suggestions to questions@askbrock.com.