In episode 8, anchor Brock Yordy gets into the important topics of plugging orphan oil & gas wells and recruiting new hires, and then interviews driller Robert Coon.
Coon retired from the company that bears his family name and says he sees a big drop in the number of people who are willing to work in drilling.
"Owners need to start breeding more drillers, I guess," Coon says.
This episode covers:
Federal funding for plugging orphan oil & gas wells
2022 Rio Grande water supply
Historic low levels in Lake Powell, Lake Mead
Repetitive stress injuries in drilling and construction work
Physical conditioning for drilling and construction workers
Advice on staying safe over a drilling career
Inspiring a younger generation to work in drilling and construction
The aging construction and drilling workforce
A "living wage" for drilling and construction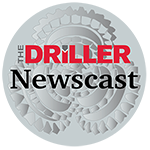 Thanks for joining us. Tune in each Monday morning for the latest video or podcast. Whether you're at your desk or on the way to the jobsite listening in the truck, start your week with us. You can also find our show on Apple Podcasts and Spotify.
Drilling expert Brock Yordy is a regular The Driller contributing writer. Send news tips and interview suggestions to questions@askbrock.com.